Peugeot 208 GTi: The original hot hatch makes a comeback
At last, a second, small GTi Pug worthy of the badge
Upped game
Physically, the 208 GTi is a very traditional GTi. It's available as a three-door only and it's got a six-speed manual gearbox rather than a flappy-paddle affair. As a driver's car it's been set up the way Peugeot thinks is best and the only change you can make is to switch the traction control off when you're feeling bold or competent. There's a simplicity about it that I found very attractive.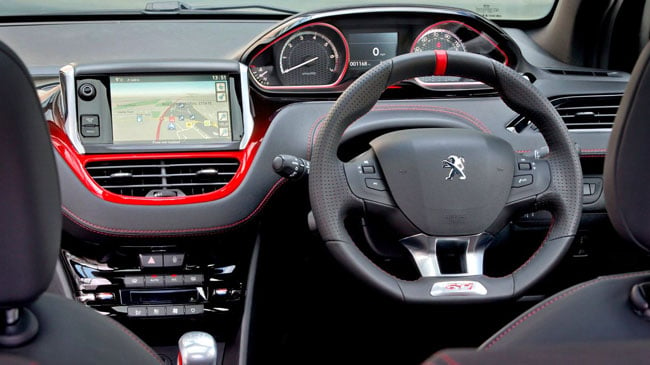 The low steering wheel looks odd, but it isn't
Hauling the coal is the same 200bhp 1.6-litre turbocharged four-cylinder engine used by Mini in the rather bulbous Cooper S and Peugeot in the stunning RCZ. A co-development by BMW and PSA Peugeot Citroën like most modern turbocharged engines it's very effective, suffers no noticeable lag but is rather uninspiring to listen too. Unlike the RCZ, the 208 GTi has no trick exhaust valves to make it sound more the part.
As a means of getting places quickly though it really cuts the mustard. It will shoot you to 60mph in 6.7 seconds and on to a top speed of 143mph. At all times it is very tractable. It's pretty economical too, with an official combined cycle consumption of 47.9mpg though my personal weekly average was a rather lower 40.2mpg. CO2 emissions of 139g/km aren't bad either for a motor tuned for performance first and planet-saving second.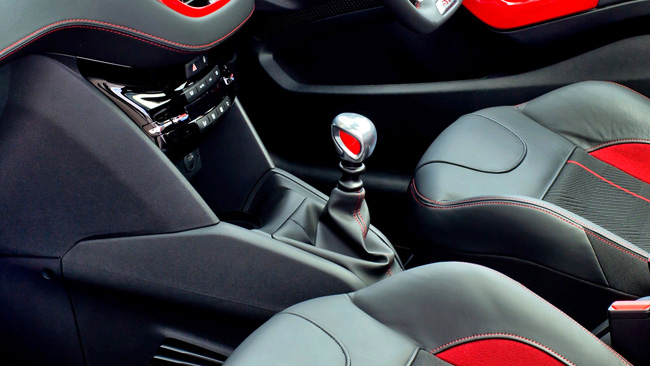 Now THAT's a gear knob
One the road, the new 208 GTi isn't as raw and untamed as the old 205 GTi - time and safety regulations have changed - but it's still great fun to drive and very eager. It's an easy car to drive fast too, making even pretty average drivers like me look halfway competent on a track. And for a sports car the Pug rides very well indeed. That underlines the fact that when it puts its mind to it few companies know how better to set up a front-wheel drive car, especially a small, fast one, than Peugeot.
Peugeot has also upped its game when it comes to build quality and standard kit. The whole car feels very well screwed together especially the cabin, which is as solid as a rock. I spent a good few hours poking and pulling at the 208 to see if I could honestly say that it's as well made as the new Golf, and as far as I can see, it is.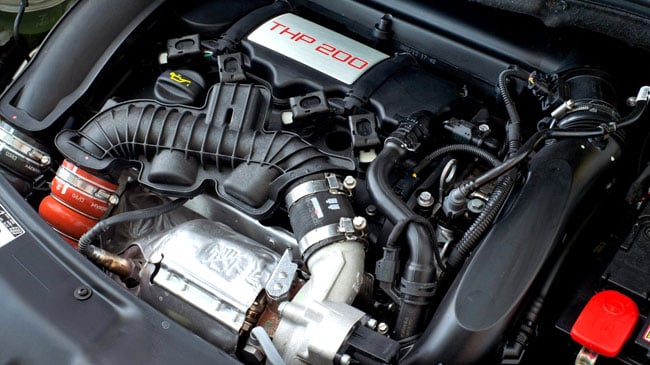 200bhp under the bonnet
Turning to the gadgets, my Android phone paired easily to the Bluetooth system and once paired stayed paired. There are two USB ports, one for charging devices and one to play music from a USB stick. You can even even adjust the intensity of the ambient cabin lighting in the enticingly named Mood Lighting menu.
The 7-inch touch screen that dominates the centre console is very fluid in use and gives twit-proof access to all the Pug's systems, though the lack of postcode search in the satnav is as much a pain in the backside here as it was on the hybrid Volvo I drove recently. The addition of a DAB radio to the very fine-sounding music system is welcome, though. All this, plus cruise control and rear parking sensors for just under nineteen grand doesn't seem like bad value at all.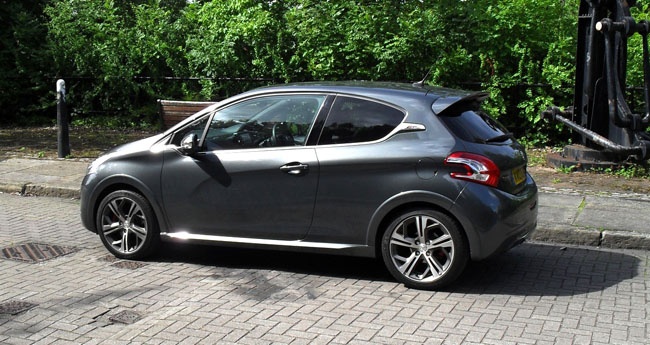 Only available as a three-door
The Reg Verdict
I wouldn't say the 208 GTi dominates the opposition from Ford, Renault and Volkswagen like the old 205 GTi did. The speedy hatch offerings from those three companies are much better today than they were back in the early 1990s. But the 208 GTi is the most composed and balanced hot hatch on the market at the moment and, more importantly, it is finally a worthy successor to the late, great 205 GTi. ®
Sponsored: Minds Mastering Machines - Call for papers now open

Peugeot 208 GTi: The original hot hatch makes a comeback
A worthy successor - at last - to the classic 205 GTi, but it's up against some stiff competition.