Oz government-in-waiting releases new online child protection policy
Removes mandatory filtering and explains social media takedown laws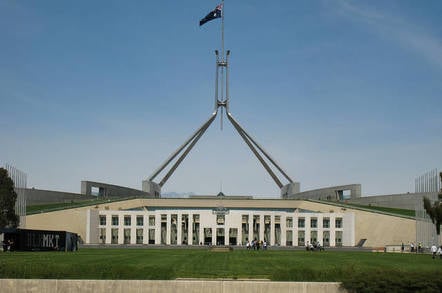 Australia's Liberal/National coalition, the right-of-centre political bloc likely to take power after Saturday's general election, has released its second "Policy to Enhance Online Safety for Children" in 24 hours, and this time it has omitted a proposed national smut filter that would have applied to every new mobile phone and internet account, with a chance to opt out.
The turnaround has been explained as a version-control error, a hard-to-swallow argument given that the coalition has been telling the Australian public it is ready for an election for at least a year. A quick look at the metadata on the new policy suggests version control wasn't the issue: the "Created" field says the document was summoned into existence at "5/09/13 8:59:51 PM".
Whatever the reason for the reversal, the new policy now offers the following comments on how the coalition plans to protect kids online:
The Coalition intends to further extend its approach of offering choice to parents and consumers, but equipping parents with the tools to protect children. That is why we will encourage mobile phone and internet service providers to make available software which parents can choose to install on their own devices to protect their children from inappropriate material.
Another odd part of yesterday's policy was a plan to compel social networks to remove content deemed offensive. As we noted earlier, that policy was sketchy and appeared easily to ignore.
The new draft offers the following deeper explanation of the policy:
The Coalition will legislate to define a "large social media site" (by reference to the number of user accounts in Australia, or other objective measures) and to oblige any company which meets the definition to participate in the complaints system.

Australian legislation will be effective to achieve compliance by any company with staff or assets in Australia, or which generates advertising revenue in Australia – and this is likely to be the case for any company which meets the definition of "large social media site".

This approach will capture the sites most commonly used by children, and will be legally effective because it will apply to sites operated by companies with a significant presence in Australia.
No definition has been offered for "large social media site", but the policy says "The specific rules of the scheme will be determined by the Children's e-Safety Commissioner following consultation with large social media sites and other stakeholders (including representatives of those charged with the care of children). This consultation will be completed within six months of the election."
Both the filtration policy and the social-media takedown policy seem at odds with the coalition's free-market philosophies. In opposition, the two parties opposed a central filter. They also opposed proposed media reforms that suggested creating a new regulator with the power to compel apologies and corrections on the grounds that doing so restricted freedom of the press.
Just how those principles will be applied to social networks remains to be seen. One thing Vulture South is willing to predict with some certainty, however, is that Australia's attitude to controlling the internet will – yet again – drop jaws in much of the rest of the world. ®
Sponsored: Minds Mastering Machines - Call for papers now open