'World's worst director' plans Snowden-inspired movie comedy
Uwe Boll takes to Kickstarter to fund Postal 2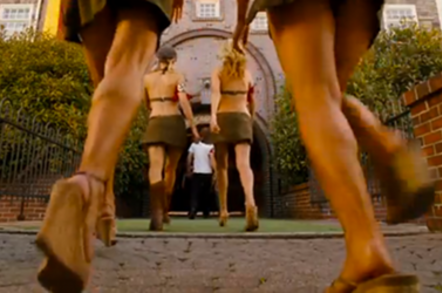 Uwe Boll, the recipient of a lifetime Razzie award who has been called "the world's worst director" has taken to Kickstarter to fund a political comedy movie inspired by Edward Snowden and Julian Assange.
The German director, most famous for making terrible films out of video games like BloodRayne and Far Cry, wants to use the whistleblowers' stories to inspire a sequel to his panned 2007 film Postal.
The Kickstarter plea starts off with a "joke" introduction to the film. El Reg has left his grammar and spelling as is:
POSTAL 2 will finally destroy the film industry and the world we are living in. We could name the movie also HONEY BOOBOO must die ....but so many people deserve to die. Why starting with a child? Did Osama die? We know. And why the Navy Seals were too stupid to land a helicopter on a free field? Why did Building 6 collapse? We explain. Why is Obama is like Bush? We show you.
But seriously, Boll goes on, the movie will actually be a controversial comedy about current political issues. The genial German continues:
We take the biggest scandals of our democracy, like the happenings about Julien Assange and Edward Snowdon and show that there is no difference between our democracy and the prison camps in Russia or China. We show that through this massive monitoring our communication data is not safe anymore! We want to make a movie which is totally uncensored, pointed against everything and everybody, against every political party and every religion. There will be no survivors.
The truly abysmal trailer for Postal. Click if you must.
It's unclear what relationship the film will have to the previous Postal movie, although they do have some of the same themes. The original film, which scores all of seven per cent on Rotten Tomatoes, was based on dull shoot-em-up games Postal and Postal², which were outlawed in Australia and New Zealand. If you really must, you can watch the trailer for Postal above – but be warned, it may be the most casually and pointlessly offensive thing this Reg hack has ever seen.
The sequel has managed to get $8,615 of the half-a-million it needs and has just under 60 days to find the rest. ®
Sponsored: Minds Mastering Machines - Call for papers now open