US gov preps sale of TOP SECRET disease research island
Will raise money so Feds can move zombie-breeding 'vaccine lab' to Kansas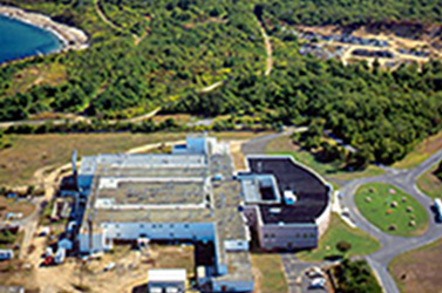 Rich Americans in search of a new home could soon be able to snap up a lovely private island within striking distance of New York City. The catch? It's the home of a federal disease research centre rumoured to have created gruesome human-animal hybrids.
The American federal government has started the process to sell off Plum Island, the site of a famous animal disease research centre. The 843-acre plot is set just off Long Island and is an important habitat for seals, as well as much scarier forms of life.
Conspiracy theorists believe the island is the birthplace of Lyme's Disease as well as a place where macabre experiments were carried out on humans. Although no estate agent can actually confirm these dual attractions, Plum Island is definitely the home of a controversial animal research site where boffins designed a vaccine for foot-and-mouth virus. That virus was responsible for the the spread of the highly infectious and sometimes fatal disease which led to a cull of 10 million British sheep and cattle in 2001.
The General Services Administration and the Department of Homeland Security have issued a record of decision, which is one of the final preparations made before a sale.
It is hoped the proceeds raised by the sale will allow the Plum Island Animal Disease Centre to be moved to Kansas State University. The actual research lab on Plum Island was closed back in 2009.
However, not everyone's happy about the plans, particularly as the site is known for being home to a number of important species.
"While a sale is not yet imminent, this latest news serves as a reminder of the critical need for federal legislation to preserve this unique, priceless natural treasure," said Senator Richard Blumenthal. "Once this pristine open space is lost to development, it can never be reclaimed."
The local council has voted to make sure the island is carpeted with bland housing estates. There will be two zones on the island, with one part kept as a nature reserve with no lab research allowed.
Although the New York State's Department of Environmental Conservation said there were no dangerous pathogens left on Plum Island, Adrienne Esposito, executive director of Citizens Campaign for the Environment, warned: "It's most like riddled with contamination, and a thorough investigation needs to occur. You can't just sell an island that was used in secret for 50 years."
Some of the weird happenings which paranoid bloggers blamed on Plum Island include the Montauk Monster, a strange beast that washed up on the coast of Montauk. A human body with "long fingers" and blue trousers was also found nearby, starting gossip about possible human experimentation. ®
Sponsored: Minds Mastering Machines - Call for papers now open