Steelie Neelie accused of killing €0.01-per-megabyte roaming fee cap in Europe
Fresh plan for Euro telecoms leaked, appears to be stuff missing - report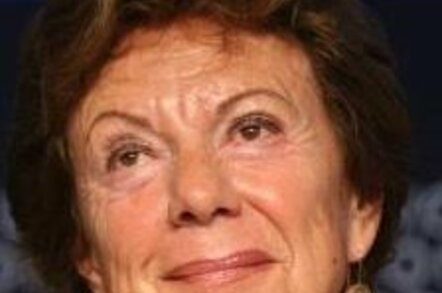 EU Commissioner Neelie Kroes has reportedly dropped her plan to dramatically slash wholesale mobile roaming fees, a move that could have helped drive down Europeans' phone bills.
In a fresh draft proposal for the future of telecoms on the Continent, seen by Reuters this week, Steelie Neelie did not mention the caps on charges as outlined in earlier versions of the plan, it is claimed. These wholesale fees set out what the telcos pay each other to route calls and data traffic through their networks, a cost ultimately borne by punters.
Kroes insisted today that "roaming fees will still end". Her spokesman added to The Reg: "It's been our intention since 2010 to eliminate the premiums associated with roaming and that remains our intention."
She had previously suggested a limit of three cents a minute on voice calls from July 2014 to June 2022, down 70 per cent from the ten cent cap that came into effect this year. She also proposed to hack a whopping 90 per cent off data roaming charges to 1.5 cents per megabyte from the current 15 cents.
After being accused of reneging on her ambition to create a single market for telecom services in the EU by privacy advocate Alexander Hanff on Twitter, Kroes tweeted back:
@alexanderhanff roaming fees will still end - debate is over how, not whether.

— Neelie Kroes (@NeelieKroesEU) August 29, 2013
Telecoms watchdog Kroes had promised to cut the amount telcos charge each other in an effort to create a single market, which the European Commission believes will help create jobs, make the region more competitive and help its networks to catch up with Asia and the US.
People familiar with the matter said major telcos including Orange, Telefonica, Deutsche Telekom and Telecom Italia sent their chief execs to meet Kroes last month to discuss their concerns about her plans.
Kroes is expected to go public with her proposals on 10 September. They will then need to be reviewed and approved by the 28 EU member countries and the European Parliament before they can become law. ®
Sponsored: Minds Mastering Machines - Call for papers now open