VMware CEO Gelsinger: How we'll beat Amazon Web Services
Virty giant plotting software-defined-data-centre-in-a-box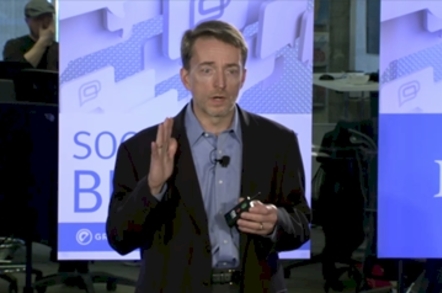 VMworld 2013 Podcast VMware is at a crossroads.
Few doubt the benefits it has brought to the data centre, or even to smaller organisations who appreciate how virtualisation helps to simplify operations of a more modest server fleet.
But the technology world is also fascinated by the public cloud, which offers fast and cheap access to servers on demand. So attractive is the public cloud that many organisations, especially new companies, don't see a need to bother with their own IT.
VMware's response is the software-defined data centre, a plan to virtualise everything in the data centre, so that storage and networks get the "logical-not-physical" treatment that boosted server utilisation rates. But the software-defined data centre assumes a fair degree of complexity exists to begin with. And lots of IT professionals work in environments that are complex, but not so complex they need a software-defined data centre.
Do those lesser entities drift into the cloud, or does VMware have a plan?
In this interview, Gelsinger explains VMware's plans to address that problem. He also explores issues including:
How VMware thinks it can beat Amazon Web Services
Why some organisations will never embrace public cloud
Why Cisco shouldn't be grumpy about software-defined networking
Plans for Cloud Foundry
The podcast is a whisker under 12 minutes long and you can download it here or listen in the player below. ®
Sponsored: Learn how to transform your data into a strategic asset for your business by using the cloud to accelerate innovation with NetApp