Plucky ISS 'nauts manage to bodge tricky camera gizmo onto podule IN SPACE
Ha ha, trusty Orlan suits don't fill up with water. See our flag!
Pic Two Russian cosmonauts have managed to stick a new camera mount on the International Space Station despite a couple of hitches.
Expedition 36 Flight Engineers Fyodor Yurchikhin and Alexander Misurkin headed out the hatch of the Pirs docking compartment for an almost six-hour spacewalk at 12.30 BST yesterday - ready to install a workstation and biaxial pointing platform for a small optical camera system to be fitted in December.
First the 'nauts removed the External Onboard Laser Communications System, which was installed on the Zvezda module in August 2011 during an Expedition 28 spacewalk. With the laser system safely stowed away, the pair of spacewalkers started on the camera platform and then noticed that the base plate wasn't properly aligned.
Russian mission controllers reckoned going ahead with the installation was a bad idea and sent Yurchikhin back to the airlock with the camera platform. But they then changed their minds after working out that the base plate could be corrected after installation, and the 'nauts had to go back and get the platform again. The mount is now stuck on the starboard side of Zvezda, ready for two cameras due to be delivered on a Progress cargoship in November to be attached during a spacewalk the following month.
Misurkin and Yurchikhin also inspected six antennas used for navigation during the docking of ATV cargoships, after flight engineer Chris Cassidy spotted one of the antenna's covers floating away from the station on Monday. Yurchikin also installed gap spanners used by spacewalkers to get from one module to another, while Misurkin collected samples from the Poisk Mini-Research Module-2.
After the initial camera platform operation took up so much time, the 'nauts had to put off moving a foot restraint from the hull of Zvezda to the new aforementioned extravehicular activity workstation.
But Flight Yurchikhin and Misurkin did have time to unfurl a Russian flag in space in commemoration of Russian Flag Day.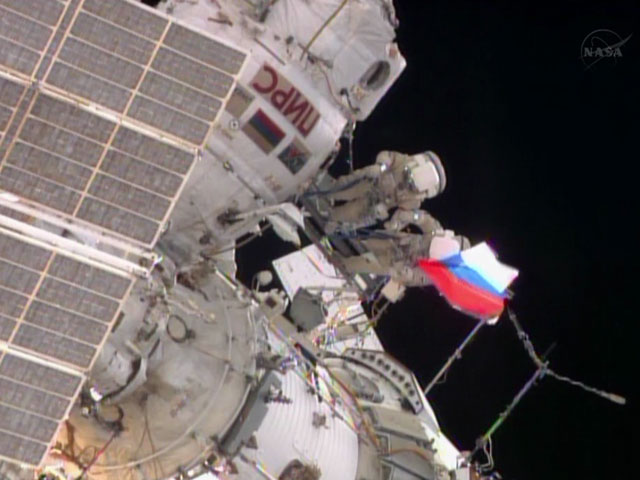 Yurchikhin and Misurkin unfurl a Russian flag in spaaaace (Credit: NASA TV)
US and European astronauts are confined to the ISS while boffins figure out what went wrong with ESA engineer Luca Parmitano's suit. Parmitano tried for a spacewalk in July, but had to abort the mission when his helmet started filling up with water. (The Italian 'naut has blogged about the terrifying experience of almost drowning in space.)
Russian cosmonauts are still able to head out on jaunts outside as they use the different Orlan spacesuits. ®
Sponsored: Minds Mastering Machines - Call for papers now open