Oracle launches paid support for 'free' NoSQL database
Recent switch to AGPL license begs question: Why?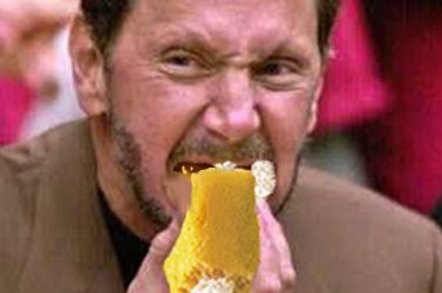 Oracle has added a paid support option to the "free" version of its BerkeleyDB-based NoSQL database.
The addition of paid support to the Community Edition of the Oracle NoSQL database was announced by Ellison & Co.'s veep of database server technologies Andrew Mendelsohn in his keynote speech at the NoSQL Now! conference in San José, California, this week.
The Oracle NoSQL database is a distributed, replicated key-value store that was launched by Oracle at OpenWorld in 2011. Like most NoSQL systems, it does not support joins and is not ACID compliant. It has been designed around a small IT footprint – Yale professor Daniel Abadi reckons it works best in a single rack.
"You don't have to pay us anything [to use it], and then if you decide you want to get support, what we're announcing is now you can get support," Mendelsohn said. "Just go to the Oracle store on the web ... give us your credit card number, and for two thousand per-server per-year you get full enterprise-class support".
The introduction of a paid support option comes at a strange time for the database, given the recent decision by Oracle to switch the licensing model of the underlying BerkeleyDB technology from the Sleepycat License to the more restrictive Affero General Public License (AGPL).
No yawning at the back – this matters.
AGPL compliance means that BerkeleyDB and BerkeleyDB-based systems including the latest Community Edition of the NoSQL DBneed to distribute all code back to the community, or move up to the paid-for version if they want to keep stuff private.
It also means they need to maintain AGPL compliance when adding in patches and updates to the software, which can be tricky. However, with the introduction of paid support they can assure AGPL compliance by paying $2,000 per year to Oracle for patches and updates.
AGPL is not well liked – Google, for example, has banned AGPL projects internally, saying, "You have to be very, very careful with how it is expressed. Otherwise you have to invoke the sharing in many different places".
It seems to us that the introduction of paid support for the NoSQL Database Community Edition, combined with the recent switchover to AGPL licensing, can be interpreted as a way for Oracle to – depending on your view of the company – offer some respite for developers scratching their heads over how to develop the software under AGPL, or maximise revenue from a "free" technology. ®
Sponsored: Minds Mastering Machines - Call for papers now open