Looking to sell the cloud? You're going to need references
Transformation standardisation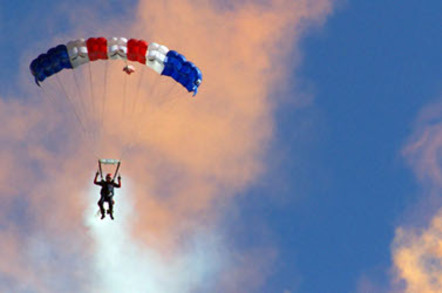 Comment Over the past few years, industry conversations around cloud computing have shifted. Whereas they initially focused on customer organisation benefits, such as lower costs and greater flexibility while using services, today we realise that cloud technology is in the process of fundamentally transforming the IT supply chain itself.
One of the areas in which this change is most visible is in the rise of reference architectures, which look set to become central to reseller success.
Resellers can create cloud infrastructures for their customers in a number of ways. They can take a pre-built solution from a vendor for resale, or they can buy all of the necessary components and build a cloud infrastructure for their customer.
Now these are standard approaches to reselling IT, but when it comes to the cloud, where a reseller might look to sell "a complete vendor solution", it leaves a channel firm with comparatively limited flexibility – or (in the case of building their own infrastructure) a smaller margin.
Standing out from the cloud crowd
By selecting the third option of reference architecture-based solutions however, resellers can deliver highly flexible value-add cloud infrastructures based on their own line cards and expertise. This allows them to differentiate their offering and increase margin on sales. In some cases, reference architectures can also enable partners to make the increasingly crucial step from pure-play infrastructure sellers, to service providers – in effect helping them to completely change their business models.
Reference architectures and converged solutions provide resellers with a complete kit for building a cloud environment. Pre-figured and pre-tested, they are essentially a turn-key solution for the cloud era. The benefits for resellers are huge including – but not limited to – access to a full range of rigorously pre-tested components, the opportunity to co-brand reference architecture-based solutions with their vendor partners and access to the resources, marketing funds and expertise of the vendor.
This is a technology-driven approach to the cloud that has been designed solely with the channel in mind. It therefore makes perfect business sense from the reseller's point of view, allowing them to enjoy the benefits of working with a major vendor while allowing them to concentrate on the channel specialities of value add and differentiation.
The analyst community has been quick to realise just how important reference architectures are going to be to the tech channel in coming years with David Vellante, founder of Wikibon, predicting that by 2017 some 50 per cent of channel business will be from derived from reference architecture-based solutions.
DIY cloud – just inhale
So why are reference architectures proving so successful? One of the key reasons is that it makes cloud very easy, for partner and customer alike. We should not underestimate just how big a change it is for organisations to move from the tried and tested IT model. Some customers are simply not ready for a wholesale move to the cloud while others prefer to leverage existing IT investments.
This is why reference architectures are so useful: they let customers continue to leverage their existing resources and expertise while at the same time beginning their cloud journey at a rate that suits them. They also provide users with the choice of which vendor solutions they deploy across the cloud. For customers, this choice provides peace of mind, while for partners looking to deploy their own clouds, it offers an excellent path to service differentiation.
And then there is the question of complexity. Over the past 30 years, the acquisition cost for IT hardware has fallen while the gear itself has become increasingly fast and mobile. If resellers are going to keep up with the rate of technology evolution, frameworks for building infrastructures are going to become crucial, allowing them to focus on delivering against the core channel strengths of service and customer experience.
Resellers differentiate on much more than just customer service, however, and reference architectures provide an excellent method for creating this differentiation. If partners choose, they can tailor stacks completely to the specific needs of each and every customer. The reference architecture is a framework – just a framework – it gives the partner all the room they need to use their creativity and understanding of the customer to create solutions that are truly transformative.
The changing role of the vendor
The move towards reference architectures also demonstrates just how different the vendor-partner relationship has become when compared to the past. These architectures are a pure partner play; the vendor in this instance is doing all in its power to help the partner, giving them the tools they need to make a sale. And this goes beyond the architecture itself. Forward-looking vendors will also offer a full range of marketing materials and sizing materials to support the sell. The aim from the vendor's perspective is to reduce costs for the partner and make their job as easy as possible, all for the end result of mutual gain.
But it goes beyond simply making it easy for partners to sell products. Vendors must adopt a "total channel" strategy, whereby they create demand for their partners and ensure they never compete on sales.
This means that vendors should actively participate in demand-generating activities and pass on leads to partners regardless of whether the latter have used their reference architectures for an infrastructure or a services proposition. This is a big change for vendors to take on, but is vitally important in the cloud era.
Reference architectures will prove to be the route through which channel businesses can really make their money. It advances on the old DIY model of selling infrastructure while allowing resellers to add real value without having to deal with additional complexity.
At the same time it blurs the lines between selling a service and selling infrastructure, helping partners evolve their business models. Reference architectures usher in a whole new era of cooperation by the various vendors that contribute to the framework, all geared towards helping the partner's business. ®
Sponsored: Minds Mastering Machines - Call for papers now open