Flash! Ah-ahh! Saviour of the universe? It'll save every one of us?
Ball-gazers see future for flash-disk mutants, unsure about purebreds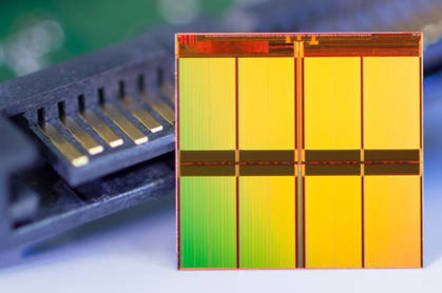 You can get a great picture of what's happening in the flash memory storage market by looking at the presentations from the recent Flash Memory summit here (warning, it's swimming in PDFs).
Over 150 documents are listed here, with file names reflecting their date of publication and the last name of their author, but fortunately, the summit's hosts list them all by date, title, session type and author. You can browse that list for one that looks interesting and then go to the downloaded PDF, but El Reg has already done the hard slog and picked out the interesting bits.
There's a chart from Seagate's product marketing director, David Burks, showing SSHD shipments in the next few years as an indicator of the delights within this set of PDFs. It predicts that hybrid flash/disk drive shipments will overtake conventional HDD shipments in 2017: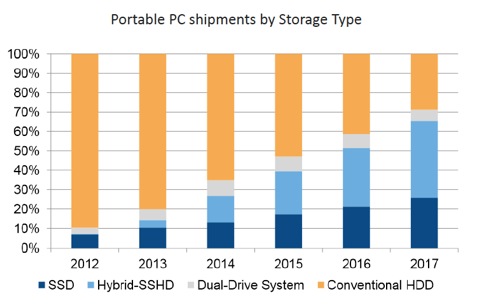 The 2013 Flash Memory Summit had a record-breaking attendance and saw the 3D V-NAND flash revelation from Samsung, as well as Skyera's 500TB in 1U technology demo and the DIMM-connected SSD technology from Diablo Technology and SMART Storage.
What attendees didn't hear about was HP's Memristor technology – odd, don't you think?
Here, in another demo of the summit's slideware eye-candy, is a chart from Samsung's 3D V-NAND presentation: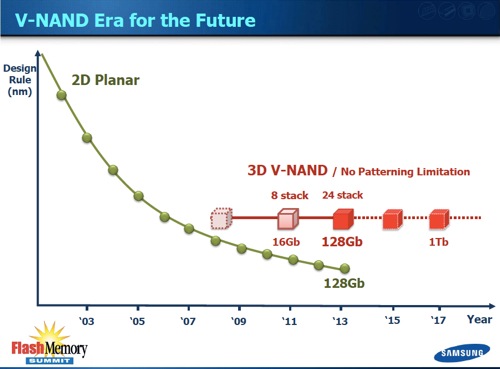 It shows 1Tbit 3D V-NAND dies coming, if all goes according to Samsung's technology plan.
And if you want to be intrigued, have a look at this pitch: "Life... Flash (or, what to expect the next 7 years" (PDF) by Dave Eggleston, principal of the Intuitive Cognition Consulting Group. ®
Sponsored: Minds Mastering Machines - Call for papers now open