Sysadmins: Be the hand up the backside at PuppetConf, VMworld
Foaming tankards are at the ready, so keep a spare liver on standby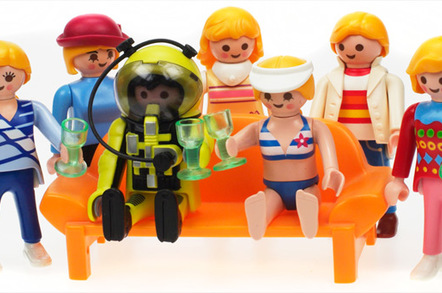 Sysadmin blog It's nearly the end of August, which means time to sign up for PuppetConf and VMworld San Francisco is nearly up. El Reg will be covering both events.
Dance Puppet, dance
The user communities for VMware and PuppetLabs overlap significantly and the companies have been cosying up recently. VMware shooed away other investors earlier this year so that it could invest $30m in PuppetLabs – VMware is also the headline sponsor of PuppetConf.
PuppetLabs, meanwhile, looks set to be extremely active during VMworld itself with the company's big names (such as CEO Luke Kanies) finding it nearly impossible to make time to meet. Everyone, it seems, wants a piece of the configuration management firm: users, investors and the CEOs of the many companies looking to partner with the company.
PuppetConf takes place on Thursday 22 and Friday 23 August and is preceded by three days of training sessions. The sponsors list is a predictable mixture of cloud vendors, big data types and DevOps ecosystem companies as well as Redhat and Fedora. If it's a company that is serious about doing things at hyperscale, you will find them here.
Fellow sysadmin blogger Josh Folland and I will be covering PuppetConf.
A diverse VMworld
VMworld - which by Monday, 26 August will be in full swing - is an order of magnitude bigger than PuppetConf. VMworld has been the focus of my existence for about three months now; I am weaing many hats in the run-up to this conference.
If you're attending the event – and you'll pardon the shameless plug – drop by the Cloudphysics (#1934) and Micron (#1635) booths. Cloudphysics and Proximal Data (who are camping inside the Micron booth this year) are clients of mine and I think both of them have some pretty amazing technologies to offer. These companies illustrate fairly standard examples of the classes of company you'll find at VMworld.
Cloudphysics is a startup that feels they have a "use it once and you're hooked" technology. They are at VMworld pretty much to scream "we exist, please notice us!" They have a neat VMworld contest running in the hopes of drumming up some social media buzz and serve as a great poster child for dozens of other companies you'll find in exactly the same boat.
Proximal Data represent another common category of company. Still in the startup stage, it is past general availability of its software and is currently iterating new versions. This is a company that will be prowling the event in part to meet potential customers, but also to meet other companies they hope to enter into partnerships with. Larger entities have access to wide distribution channels and OEM deals can make or break companies at this stage.
Micron is another example of a common class of company you'll find at VMworld. A behemoth of a company, pretty much everyone in our industry knows what Micron does. Micron doesn't need to explain to the world that they make RAM, flash and so forth. What they need to do is convince you that for all the hype some of their "younger and hipper" competitors get they are worth serious consideration in their own right.
The Microns of the world aren't satisfied with providing flash chips for others to integrate into products; they want you to use Micron-branded gear so that they can eke out the extra few points of margin that would otherwise have gone to someone else. Large companies like Micron will work with adjacent startups to generate demand and recognition – which is why you have Proximal Data camping in Micron's booth. So when you visit booths of larger companies, look around... there may be a smaller one hiding within that is worth your time as well.
vParty hardy
The party scene at VMworld is daunting. It isn't the number of interviews or the week and a half of sleeping three hours a night. It's the parties. There are so many parties scheduled in and around VMworld that after this pair of conferences is over I think I am going to need a liver transplant.
If you're into storage there's StorageBeers on Wednesday, 21 August; vBeers on Saturday, 24 August caters to a more generic crowd, as does vBreakfast on Sunday, 25 August.
This Sunday, 25 August, will also see a return of old VMware favourite v0dgeball. V0dgeball is one of VMworld's most popular events and is raising funds for the Wounded Warrior Project.
The famous VMunderground is also on Sunday, but tickets are rare as hen's teeth and jealously guarded. The official VMworld reception occurs on Sunday as well.
Monday, 26 August is where things really start getting crazy, and the point at which I am more-or-less triple-booked. Actifio is hosting vFlipCup, meanwhile the infamous CXIParty is sponsored by Infinio this year.
Tuesday, 27 August is another day where everyone and their dog seems to have a party arranged, and I am again triple-booked. vBacon and the offical Hall Crawl are the only public party that I know of, but this seems to be the big night for all the invite-only vendor parties.
Wednesday, 28 August is the legendary UNParty as well as the official VMworld party and vStogies.
Thursday or Friday will probably see another vBeers tweetup, but Twitter doesn't seem to have agreed on anything yet. Camp the #vBeers hashtag closer to the event and I'm sure you'll find fellow sysadmins for further inebriation.
Invite-only vendor parties are a big thing at VMworld. My calendar currently has LogicMonitor, Nimble, CommVault, Cloudphysics and Veeam. I'm positive this is only scratching the surface, I am still shovelling out my email from the hundreds interview/party/meeting requests I'm getting every day.
Vultures on the scene
The San Francisco Vulture roost is hosting a few additional bodies to help cover the event. If you're on the ball you will find San Francisco's Jack Clark backed up by the canny Timothy Prickett Morgan and our dark antipodean overlord, Simon Sharwood.
I'll be wandering around with two other sysadmin bloggers – Josh Folland and Phoummala Schmitt – so if anything really interesting pops up, we'll find it.
If you're going, don't forget to set aside time to sleep. It might seem silly to have to mention it, but experience has taught me that it is one of those things that gets lost in the rush. Make a list of the booths and parties you really want to go to and do them first. You won't get to visit them all, so don't kill yourself trying. Have a safe trip, and I hope to see some you of you there. ®
Sponsored: Minds Mastering Machines - Call for papers now open