Volvo V60 Plug-in Hybrid: Eco, economy and diesel power
A 143mph 4-wheel drive electric estate car? Oh yes
3 Big data security analytics techniques
No small Torque
I needn't have worried: the change from electric to hybrid drive even at low speeds is close to seamless mechanically and barely noticeable aurally. Assuming you have the stereo on and are not pretending to be a motoring Trappist, you'll be hard pushed to tell when the diesel engine fires up, a very slight increase in cabin vibration being the only telltale.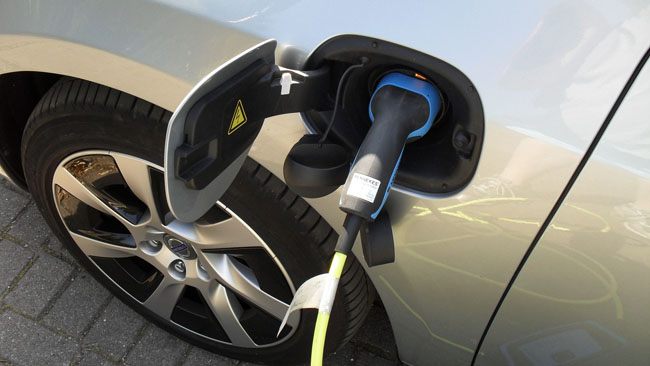 You plug it in here
Of course even if you have the ears of a bat and the sensitivity of a Hans Christian Andersen princess you could argue that less-than-perfect refinement is a small price to pay for the economy and torque (440Nm/325lb-ft at 1500rpm) of a diesel. And you'd have a point: the combination of a 2.4-litre turbodiesel and an electric motor means the V60 Plug-In goes like a scalded cat.
Surfing along on a colossal tidal wave of torque makes for an extraordinarily satisfying way of getting between A and B quickly and economically. And, thanks to the four-wheel drive system, you can press on even if driving conditions are less than ideal.
The V60's cabin is a fitting match for the technology underneath. The standard-fit satnav is pretty good - though it lacks postcode search - and the audio system boasts 4 x 40W of amplification and eight speakers.
The 8-inch LCD instrument panel is sharp and clear too. The rest of the cabin is trimmed and built to the standard you'd expect from a high end Volvo. In a welcome improvement from the S60 DRIVe I tested for El Reg back in 2011, the new V60 has a footrest for the driver.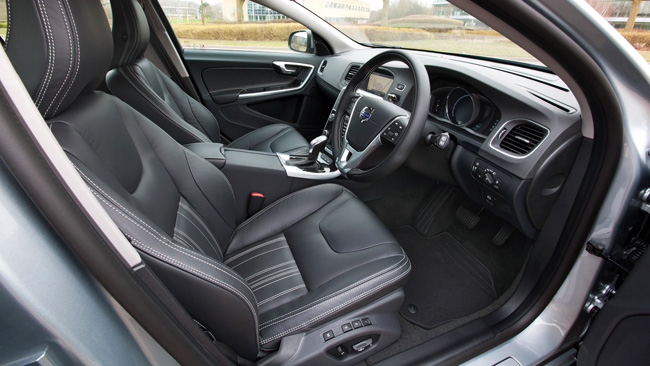 The well-appointed cabin is a nice place to sit
Volvo also deserves a pat on the head for not making the V60's instrument display a techie junk fest. The screen and information options are nowhere near as hybrid-OTT as they are in the Prius. In fact, you can set the displays up in such a way as to make it nigh on impossible to tell that you are not behind the wheel of a regular, automatic V60.
Less hard to avoid are the myriad safety systems. Some, like the instrument binnacle showing you the current speed limit and the headlamps that track when you turn the steering wheel, are handy. But others, like the red lamp that flashes on top of the dash when you're within the same postcode area as an obstacle or another car, are more of a distraction. Thankfully the settings menu is a piece of cake to navigate so turning some of the safety systems off is easy.
For the truly inattentive driver the radar-controlled adaptive cruise control, lane departure and blind-spot warnings, all-round proximity sensors and automatic low speed collision avoidance system make the V60 a hard car to bend.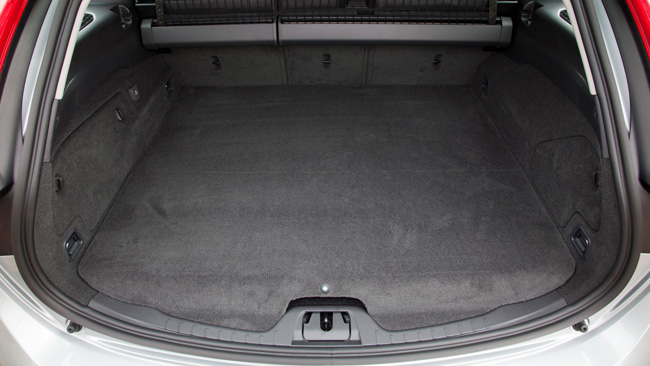 The load area is big but the battery does take up space
Of course all this hybrid technology doesn't come cheap. At £43,775 after the British government's plug-in car grant, the V60 Hybrid is a full 10 grand more expensive than the V60 D5 SE Lux but the Hybrid is faster, more economical, has a higher level of standard equipment and has four-wheel drive.
As a simple economic proposition, the V60 Hybrid then makes as much sense as any other car that carries a prestige price tag thanks to its performance, technical ability or badge.
Look at this way: if you decide to spend £43,000 on a V60 Plug-In you can at least use the innovative drivetrain you have paid so dearly for on a daily basis and save fuel. The same can hardly be said of the Audi RS6 Avant, a £77,000 estate that if you use to its full potential will result in you getting up close and personal with PC Plod and spending a considerable amount of time standing next to a petrol pump.
The Reg Verdict
The combination of a powerful and torquey five-cylinder diesel motor and a sizeable battery and electric motor make the V60 Plug-in Hybrid a rather impressive wagon. It's very fast, impressively economical, can attain significantly higher speeds and ranges under electric power than the Plug-In Prius. It's also pretty practical and loaded to the gunwales with kit. If you are looking for a performance estate or just the most practical electric car on the market, it has to be worth a test drive. ®

Volvo V60 Plug-in Hybrid: Eco, economy and diesel power
A 143mph 4WD electric estate car? Oh yes.