Bureaucrats foil Nestlé's bid to TRADEMARK KitKat's chocolatey digits
Protective wrapper torn off design - now anyone can throw four-finger shapes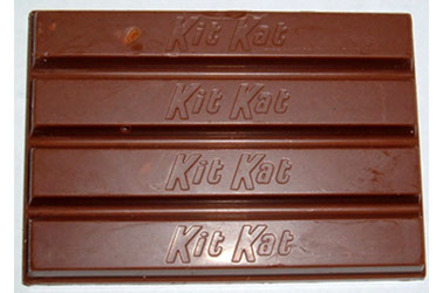 Analysis British bureaucrats' refusal to protect the KitKat chocolate bar's distinctive four-finger design from copycats has been slammed by UK lawyers as "remarkable" - and they say the decision has ominous implications for businesses fighting off competitors.
The UK Intellectual Property Office - an agency of the government's Department for Business, Innovation & Skills - rejected Nestlé's bid [PDF] to protect the actual shape of its KitKat product as a trademark, a move that would have stopped rivals from producing imitation treats.
This is despite European Union member states recognising the physical design as a community trade mark [PDF], which is safeguarded by law.
It's all part of an epic seven-year legal battle between two choccy giants: Nestlé and Cadbury.
Rowntree's, which invented the Kit Kat in York in 1911, was gobbled in the late 1980s by Nestlé, which in 2006 protected the distinctive red "KitKat" logo as a trademark across Europe including the UK. Nestlé also tried to register the confectionary's four-finger design as a trademark in Blighty as well as on the Continent.
Rival Cadbury, now owned by Kraft, formally appealed against that attempt to protect the choccy bar's physical shape. The matter rested in the hands of Blighty's Intellectual Property Office (IPO), once the Patent Office, which ruled the design of the chocolate bar was not an aesthetic but rather a practical design, meaning it could not stand as a trademark – the layout is there to help sweet-toothed folk break it apart, rather than act as a creative design, officials said.
Allan James, head of the IPO's Trade Mark Tribunal, determined that:
Essential features of the shape are attributable only to a technical result ... Trade marks are intended to permit consumers to make informed choices between the competing goods of different undertakings in the course of trade.
The IPO's greatest hits include the controversial Instagram Act, which potentially allows digital works found on the internet to be sold without a penny going to the creators.
The agency's staff have expanded their historic role of registering patents into politicking and lobbying Europe-wide for weaker intellectual property protection.
The IPO can't adjudicate in copyright or patent disputes, as these are feuds between private parties. It does, however, appear to wish to preemptively search and destroy patents it doesn't like (see this PDF, in which the IPO Patent Opinions Service proposes amending the law to give the agency "the power to initiate revocation action against a patent"). The IPO's Copyright Tribunal can arbitrate in royalty-payment disputes involving collective licences, though.
But the IPO does have the ability to dive into trademark disputes - and did so here.
As David Lant at law firm Sintons points out, it's remarkable that the IPO ignored a community trade mark valid across 28 Euro states. Normally, British bureaucrats defer to European rulings - but it appears that only happens if they agree with them. This time they were sympathetic to Cadbury's claim that a "four trapezoidal bars aligned on a rectangular base" should be considered a generic chocolate shape.
You can find Lant's thoughts here at The Lawyer [PDF]. Expect the legal battle to continue. ®
Bootnote
As an interesting aside, Cadbury also applied for an unconventional trademark: the shade purple used in the Purple One [PDF], which the IPO upheld after Nestlé disputed whether Cadbury should be able to trademark the tint, pointing out that Marks & Sparks Extremely Chocolatey Caramels had sported the same colour packaging.
Sponsored: Minds Mastering Machines - Call for papers now open