Emulex to QLogic: Adapter biz is shrinking, but we're still swimming
InfiniBand and direct-attached flash hit server connectivity market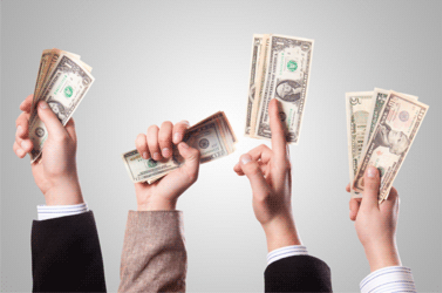 Emulex's latest results show it overtaking QLogic in the traditional server storage connectivity market – despite the fact that the pie which they're divvying up is becoming increasingly smaller.
The fourth fiscal 2013 Emulex quarter finished at the end of June and saw revenues of $120.4m – showing the usual seasonal fourth quarter bounce, at three per cent up on the previous quarter. But the revenues were still 22.4 per cent less than those of a year ago. And profits? What profits: Emulex made a loss of $4.6m, but that's still a whole lot better than the year-ago quarter's $27.6m loss.
So the overall picture is one of declining revenues but improving profits/losses.
The full year's numbers were $478.6m in revenues, 4.6 per cent less than the 2012 figure, with a loss of $5.2m; better than the 2012 loss of $11m.
If we compare this with fellow server storage connectivity supplier QLogic's quarterly revenue numbers, we get this chart: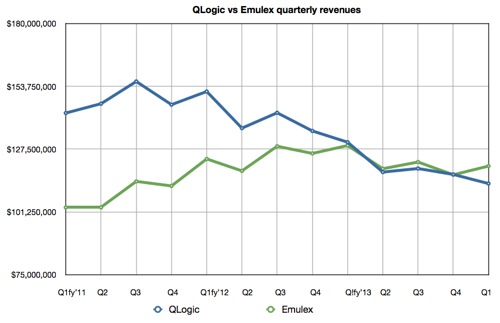 Emulex revenues overtake QLogic
Emulex has overtaken QLogic revenues and the gap is widening. How about comparing their quarterly profits and losses?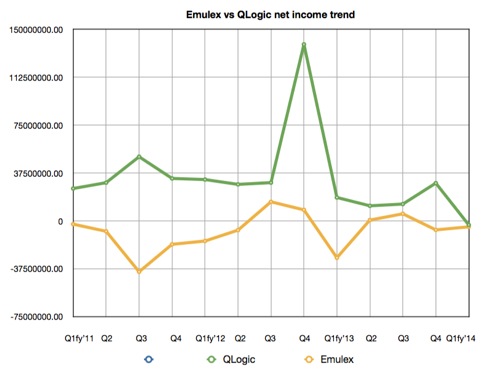 Emulex and QLogic profit/loss trends
Emulex is catching up with its arch-rival there and another overtake is possible.
Fibre Channel and Ethernet-connected storage arrays are now finding some of their primary (high access-rate) data storage responsibilities transferred to directly-attached server flash storage and fast-access flash storage arrays connected to servers by high-speed links such as InfiniBand. Oracle's engineered systems, which use acquired Xsigo technology for server I/O virtualisation, is just one example of this.
Emulex's get-out-of-SAN-connectivity card is called Endace, its Ethernet network inspection technology, and this could be an Endace in the hole, so to speak - eventually.
QLogic's prospective ace is its Mount Rainier flash cache-enabled Ethernet/Fibre Channel storage host bus adapters. It's not going to be generating significant revenue for a while, and QLogic is winding down its switch business. The odds are that Emulex is going to carry on doing better than QLogic, which is looking for a new CEO, both revenue and profit/loss-wise.
Just an idea, but wouldn't there be some logic in Brocade acquiring QLogic and integrating its server storage adapters to Brocade's switches and directors, thus enabling Brocade to actually make something of its foray into server-storage connectivity? Or Brocade could maybe buy Emulex and get Endace, which could mesh nicely with its existing Ethernet business? ®
Sponsored: Minds Mastering Machines - Call for papers now open