Samsung Mega 6.3: Enter the PHONDLESLAB
Big, but a nice bit of kit into the bargain
Bigger display, crunchier CPU
For a TFT panel the display supports impressively broad viewing angles with very little colour shift or contrast loss in evidence when you tilt or angle it. On the whole it's very similar to the screen on the Galaxy Note 8, which is something of a compliment.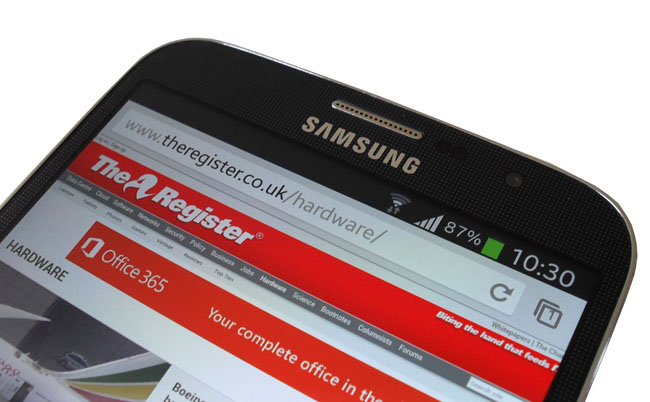 The webcam is good.
Doing the dirty work is a dual-core 1.7GHz Krait-class Qualcomm Snapdragon CPU with an Adreno 305 GPU and 1.5GB of RAM. It's indicative of the silliness of the smartphone power wars - well, Android smartphone power wars - that this is now considered a thoroughly mid-range spec. Be that as it may, it's more than powerful enough to do everything I want a VLP to do and do it smartly.
Benchmark scores didn't quite match those of the Note 8 - AnTuTu returned an average of 13,500 versus the Note 8's 16,500 - no doubt due to the Note 8 having a third more RAM, but the Mega 6.3 is more than powerful enough to play the likes of Modern Warfare 4: Zero Hour smoothly so the benchmark numbers are verging on meaningless.
Out of the box, the Mega 6.3 runs Android 4.2.2. Of course you also get the TouchWiz overlay with all the usual Samsung bells and whistles - like multi-screen apps, Smart Pause, a pop-out video player etc. - about which I've said more than enough while reviewing the likes of the Galaxy S4 and Note 8.0.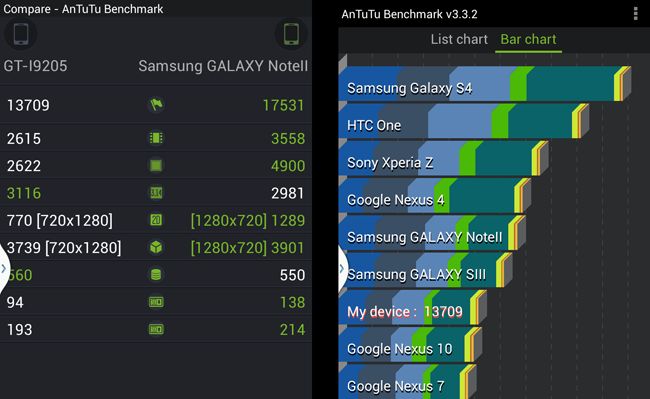 The Mega in AnTuTu: versus the Note 2 (left) and the rest
My take on TouchWiz is simple: that the bigger the screen the more sense it makes and the more useful it is too. On the Mega 6.3 it approaches neat tablet-levels of usefulness so I wasn't seen running for the Play Store with my trousers on fire to download a new launcher at the first possible opportunity.
When it comes to storage, the Mega 6.3 packs 8 or 16GB depending on which version you go for. The latter is the smart choice if you can find it because though there's a Micro SD card slot TouchWiz takes up a big chunk of space. With games getting bigger and bigger - Modern Warfare 4 is a 1.8GB download - anything less than 10GB free after the system has put its tanks on the lawn could start to cramp your style. The 8GB Mega only has 4.8GB free.
Connectivity is spot on though, with a micro USB port that supports USB hosting and MHL, an NFC chip (actually built into the battery) and an IR transmitter. There's also dual-band 802.11ac Wi-Fi, Bluetooth 4.0, 21Mbps HSDPA and LTE 4G.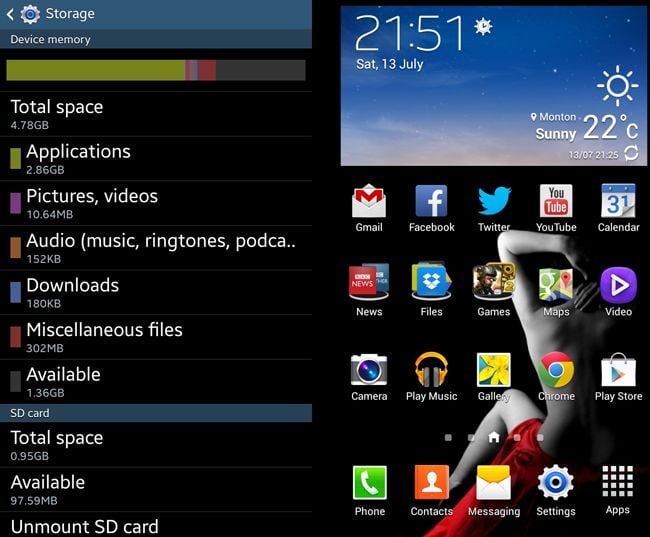 The 8GB version can run out of space fast (left), but at least Samsung's TouchWiz UI makes sense here (right)
I've nothing negative to report in regards to call quality or signal reception, and I'm pleased to say that the Mega's loudspeaker is one of the best I've encountered on a Samsung device recently: it's loud, tuneful and very composed. There's even a decent amount of bass on offer.
The Mega 6.3 packs 8 and 1.9MP cameras both of which can record 1080p video at 30 frames per second and the accompanying sound in stereo. By smartphone standards the main camera is reasonable, by tablet standard very good indeed. The webcam is very good by any measure.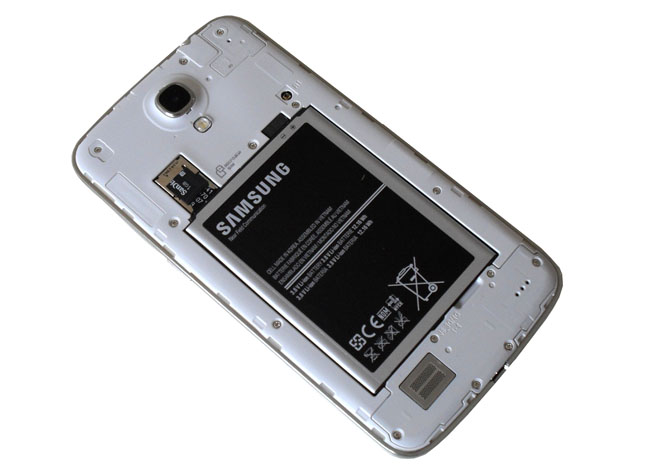 The big battery is the deal-maker here
I've saved the Mega 6.3's killer feature until last: the combination of a 1280x720 screen and a removable 3200mAh battery. That's near enough the same partnership (3100mAh and 5.5 inches) that gives the Note 2 its epic run times between charges and it pays the same dividends in the Mega 6.3. Loop a 720p video and you get close to 11 hours from a charge. To get fewer than two days general use, you really have to hammer it.
The Reg Verdict
What we have here is a Very Large Phone with a slightly mid-range specification. I can see the logic behind that. Wanting a huge screen doesn't necessarily mean that you also want a quad-core chip that can power a Boeing 777 or a screen resolution beyond the range of human visual acuity. The Mega 6.3 combines a big screen with a reasonable price, solid performance and excellent battery life so if you are after a device that will fulfil the role of both phone and tablet without demanding too much in the way of compromise in either direction the Mega 6.3 is that device, especially for 375 quid. ®
Many thanks to Expansys for the loan of our review unit
Sponsored: Minds Mastering Machines - Call for papers now open

Samsung Mega 6.3: Enter the PHONDLESLAB
A massive 6.3-inch phone that makes for a surprisingly decent mid-size tablet.