Ravello Systems arm cloud wranglers with hypervisor lasso
Enterprise app portability at for pennies on the VM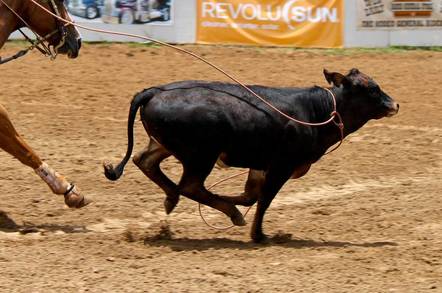 Cloud wrangler Ravello Systems has announced the general availability of its "cloud hypervisor" technology.
The startup announced on Wednesday that after an extended beta it has polished the underlay and buffed the connectors of its hypervisor to a state fit for choosy enterprises.
Ravello's technology lets admins lasso together the VMs upon which an application sits, and uses the company's "high performance nested virtualization" (HVX) software to lift them up from dependencies and bind them into a single cloud application capsule, which can then be moved onto the Rackspace, HP, or Amazon public clouds.
"We're masquerading as the original hypervisor, giving the app the same exact picture," the company's chief Rami Tamir tells El Reg.
The company bills this as a handy way for enterprises to rapidly test and develop applications on different clouds, and also – as with any virtualization product – reduce their bills, as well. It has integration with the Chef infrastructure-management tool, and plans to introduce Puppet compatibility soon. Support for the development-environment "Vagrant" software is planned, as well.
"From an enterprise's perspective, the way we look at this is essentially is around making their dev processes agile," the company's senior product veep, Navin Thadani, says. "There's a bit of a problem right now – the dev-test infrastructure an enterprise has is not keeping up and its preventing them from being as agile as they want to be."
Ravello Systems uncloaked in March 2012, manned by the team that had previously built Qumranet, the company behind the KVM hypervisor. In February of this year, the company started slinging its "cloud hypervisor" to select customers as part of a beta program, and now it's ready for general consumption.
Since then, over 2,000 users have replicated over 30,000 apps, the company said in a statement.
During the beta period, Ravello enhanced its technology to deal with applications containing over a hundred VMs, and added support for L2 and L3 network appliances such as firewalls and load balancers, Thadani says. It also added support for virtual LANs, and various clustering and storage features. "All the above were challenging, but are necessary to deal with for real world enterprise applications," Thadani says.
Pricing for the technology is levied according to infrastructure usage, and is available in both a cheap ("cost optimized") and an expensive, customizable version.
For a "cost optimized" app that sits in 10VMs, each of which has 2 AWS vCPUs and 8GB of memory, you would need around 10 Ravello "building blocks," Thadani says, which each cost around 25 cents. This works out to an hourly cost of $2.50 for your app, plus "small incremental charges" for storage and networking. The price goes up with resource usage and application complexity, so if you start to have data shuttling between your VMs while being replicated into a storage system, expect costs to rocket.
There is also a pricier version that lets people select the cloud (HP, Rackspace, Amazon) they want their app in, and the precise region. Ravello did not disclose pricing for this version, but did say it would be more expensive. ®
Sponsored: Minds Mastering Machines - Call for papers now open