NORKS prepping glorious People's Smartmobe
'Arirang' expected to "instill national pride and self-respect" into the Korean people'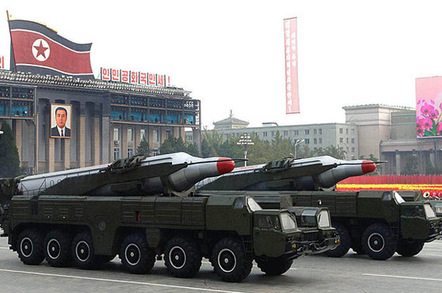 North Korean leader Kim Jong Un has visited a mobile phone factory in the reclusive nation and revealed some details of a handset dubbed the "Arirang".
The Korean Central News Agency (KCNA) isn't the kind of source to go heavy on tech specs and its English isn't the best, so we don't know just what the phone runs but is widely held to be Chinese hardware running a Middle Kingdom take on Android shorn of Googley bits. The factory is thought to be an assembly plant, rather than a high-tech centre capable of doing the heavy lifting involved in phone manufacture.
KCNA's propagandastory about the first secretary of the Workers' Party of Korea, first chairman of the National Defence Commission of the DPRK and supreme commander of the Korean People's Army's (for such is Kim's full title) visit to the factory described the handset as possessing the following features:
"An application program in Korean style which provides the best convenience to the users while strictly guaranteeing security"
"Convenient for its user when that part of the phone is sensitive"
"Their camera function has high pixels"
That Kim's tour of the factory was a stage-managed propagation of party diktat is beyond doubt. Kim putting on his socks gets more or less the same treatment.
But the statement also includes a paragraph to the effect that Kim feels "mass-production of goods with DPRK trademark can instill national pride and self-respect into the Korean people."
Kim goes on to say "How nice to see hand phones being successfully produced with indigenous technology, he said, adding it is of educational significance in making people love Korean things."
Sure, that's propaganda. But Vulture South wonders if readers share our feeling that the sentiments are eerily close to those voiced by Apple when it talks about building more kit in the USA? ®
Sponsored: Minds Mastering Machines - Call for papers now open