Do you think spinning rust eats flash's dust? Join the hard drive daddies club
Hard disk jockeys form Storage Products Association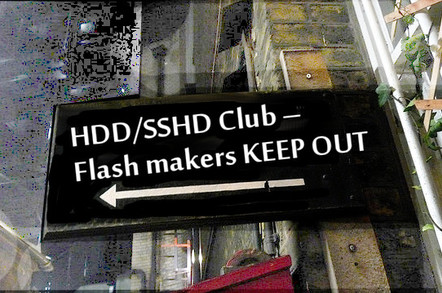 Disk drive makers have joined forces in a desperate bid to keep disk sales up and fend off the flash threat.
Western Digital, HGST, Seagate and Toshiba have formed the Storage Products Association to provide "a forum to educate and advocate about the role of hard disk drives (HDDs) and Solid State Hybrid Drives (SSHDs) in consumer and business environments".
All the companies involved issued press releases about this.
Here's a tinned quote from Joel Hagberg, marketing VP at Toshiba's Storage Products business unit and an SPA board member:
With newly created data doubling every two years, hard disk drives and solid state hybrid drives remain the best option for securely storing large amounts of dynamic data, in a cost effective manner. At Toshiba, we have witnessed inadequate information reaching consumers about HDDs. The formation of SPA will help storage stakeholders stay informed of the key trends in storage as well as educate them on any current misconceptions of storage.
Calling it the Storage Products Association is a bit, well, all-encompassing. Let's just list a few storage product suppliers who are not in it: Samsung, SanDisk, Micron, Intel, SMART Storage, LSI, Fusion-io, OCZ, Plextor, SuperTalent, Kaminario, Violin Memory and Virident, Nimbus Data, Pure Storage, Skyera and Whiptail. So all flash product suppliers, then.
The misconceptions Hagberg refers to boil down to one: that flash will take over from hard disk drives. This, the platter-spinners claim, is impossible because there isn't enough flash fab capacity on the one hand, and flash is more expensive than disk on the other.
Well, is it more expensive than disk? Skyera claims its skyEagle will come in at $1.99/GB, which is a lot less than some disk drive arrays. But we really do have to see that product actually shipping before we believe it. Add in the effects of dedupe and compression and we're heading down to $0.50/GB.
This means disk drive array manufacturers will have to cut their prices. It also says things are going to get worse for the disk-makers, because flash will get cheaper and, inevitably, more flash fab capacity will come on stream.
The disk-making club is getting hammered on one front and faces a distant threat on another. The fastest disk drives are being replaced by flash because they are not fast enough. The disk club members are fighting a rearguard action with flash-enhanced disk drives (SSHDs) hoping that these read-accelerated disk drives will appeal to customers who can't afford an all-flash drive, and they are probably right, for the time being.
The distant threat is cheap flash used for cold or tepid data storage, as Facebook wants, which will kill off a lot of bulk data SATA disk drive sales.
We could see disk drives getting squeezed into a cheap nearline drive business, with performance data on faster flash and tepid and cold data on cheap flash, with cheapening flash steadily eating into the nearline data storage business too, over time.
All the disk-drive manufacturers have flash businesses but, except for Toshiba, these are mere icing, in revenue terms, on top of the disk drive cake. Toshiba, having recently enlarged its disk drive operations, is interested in keeping its factories spinning out drives for a long time, which is why it has joined the SPA.
Once upon a time, the horse-drawn cart industry looked at motor vehicles and said they were too expensive and there wasn't enough manufacturing capacity. Cue Henry Ford.
There will be more flash fab capacity built. If WD/HGST and Seagate had the sense - this is a Reg hack writing here, pushing a train of thought at Hyperloop speed, mind you - they would put capital into joint flash fab-building ventures and climb aboard the flash (and follow-on technology) bandwagon.
As for the hard-disk boys and girls circling their wagons... the idea is almost laughable. ®
Sponsored: Minds Mastering Machines - Call for papers now open