Boffins harvest TV, mobile signals for BATTERY-FREE comms
Powerless tech better than your common-or-garden RFID tag, claim researchers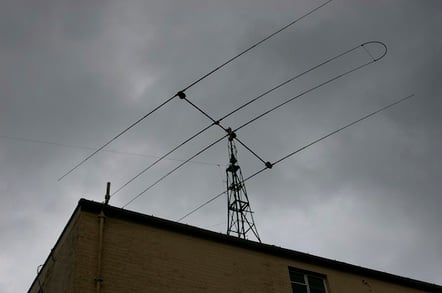 Radio boffins from the University of Washington have created tags and readers which reflect and feed off ambient radio frequency energy for communications - without needing a power source.
The team calls the technology "ambient backscatter" and reckons it could connect up the much-heralded Internet of Things without either party needing a power supply.
Two tags can absorb, or reflect, existing transmissions from (for example) a TV broadcaster to convey information to each other, while using the power absorbed to process the signals, as demonstrated in this jolly video.
Absorbing power from TV transmissions is very old news. Back in the '60s Practical Wireless ran a feature on the subject. More recently, Intel managed to pull 25uA, at 1.5v, from a local TV transmitter – apparently just for fun.
Pulling power from a TV signal generates a shadow, sucking the signal from the surrounding area. The effect is very localised but it's that removal of signal which the Ambient Backscatter system perceives as a transmitted Zero. A "One" is sent by reflecting the signal, and thus binary communications is possible.
Communication by reflected signal is also old news; various forms of RFID tag work this way. Which is why, unlike NFC tags, they can be read from such a huge distance with a high-powered signal. Californian outfit Kovio has even managed to print such tags for 5 cents a time.
But those technologies all require a powered reader, while the Washington boffins reckon their powerless tech is inherently superior. They suggest an unpowered sofa could communicate with an unpowered keyfob to tell a home hub of some sort that the clumsy homeowner has left the key behind.
That sounds good, as long as every device knows the frequency of a suitable transmission nearby, or can scan for available transmissions, though that would take power which rather defeats the object.
Radio is getting much more energy efficient: the Weightless protocol, for example, will keep one's keyfob connected to a national network for seven years or so on a single battery, which challenges the principal advantage of ambient power.
But this is research, and doesn't need immediate application to be interesting. It's another way for devices to communicate, and with tens of billions of devices joining the internet over the next few decades new communications should always be welcomed. ®