Mother of Chelyabinsk spotted
That Russian meteor? Plenty more where it came from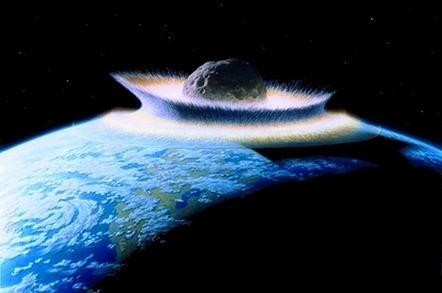 Spanish astronomers looking for the origins of the meteor that came scarily-close to the Russian city of Chelyabinsk last February believe they've spotted a cluster of as many as 20 objects that are possible candidates.
The Chelyabinsk superbolide, which damaged buildings, caused injuries on the ground and gave rise to a spectacular video back in February, could be a member of a group of asteroid remnants of a larger object that broke up between 20,000 and 40,000 years ago.
In this paper, the researchers suggest the Chelyabinsk impact might be traced to a group that includes the 200-metre 2011 EO40. EO40 is a regular in our vicinity and is classified as a possible risky object by the International Astronomical Union's Minor Planet Center.
The Spanish researchers, brothers Carlos and Raul de le Fuente Marcos, created simulations of "billions" of possible orbits, to identify what they believe to be the most likely ten possibilities. The average of those ten orbits was then matched against NASA's asteroid catalogue to find objects with a similar orbit – the source of their suggestion that 2011 EO40 is a member of the same group.
However, the researchers warn that in all cases, only relatively short arcs are known for the various objects, which leaves a fair amount of room for uncertainty about whether the Chelyabinsk event's parent body has been located. Longer observations, and spectroscopic investigation would help demonstrate whether there is a "truly genetic relationship" between all the objects. ®
Sponsored: Minds Mastering Machines - Call for papers now open