100,000+ Earthlings star in 'reality TV contest' for ONE-WAY ticket to MARS
Watch and vote on thousands vying for a new life on the Red Planet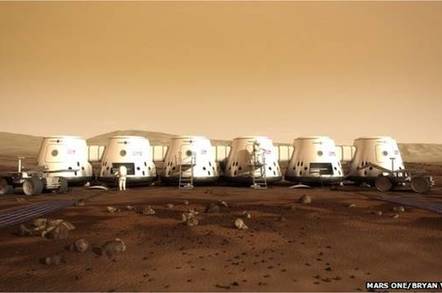 Vid More than 100,000 people want to go to Mars and never, ever come back, according to the non-profit organising a trip to the dust world.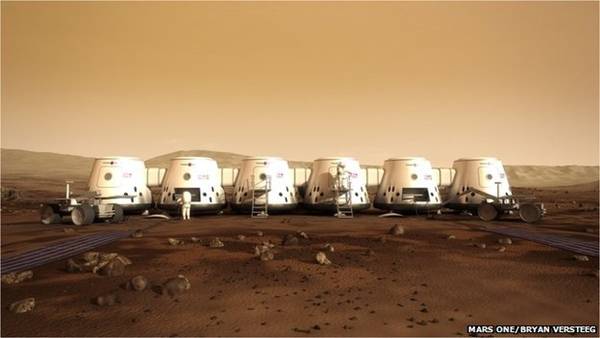 Mars One (of a kind) ... how its landers might look
Mars One's mission to colonise the Red Planet from 2022 has attracted thousands of applicants for the coveted four spots on the one-way trip - despite the fact that pesky questions such as whether the project will be fully funded, how it'll work and if they'll even survive the journey have yet to be answered.
Bas Lansdorp, Mars One CEO and co-founder told CNN anyone can look through most of the wannabe 'nauts' applications on the project's website: the most popular entries have been viewed hundreds of thousands times and given thumbs-up by millions. Each applicant has to file a video explaining why he or she should be one of the lucky few with a one-way ticket to a planet roughly 225m kilometres away (average distance).
Here's a typical popular video, by maths teacher Lucy:
Lansdorp said many more peeps were working on their applications. He expects the first mission to the Red Planet to cost about $6bn, which he expects to fund using the proceeds from televising the whole thing - from choosing the astronauts in a reality-TV-style competition to showing their lives on Mars.
"What we want to do is tell the story to the world," he said, showing a lot of confidence that the project will get off the ground. "When humans go to Mars, when they settle on Mars and build a new Earth, a new planet. This is one of the most exciting things that ever happened, and we want to share the story with the entire world."
Lansdorp plans to send capsules to Mars that will carry supplies and people and then double up as part of the habitat for them to live in. He claims that the new Martians will be able to filter water from the soil there, evaporate it and then condense it back into a consumable liquid.
"From the water we can make hydrogen and oxygen, and we will use the oxygen for a breathing atmosphere inside the habitat. This will be prepared by the rovers autonomously before the humans arrive," he explained.
Neither Mars One nor the other civilian Red Planet mission making headlines, the Inspiration Mars Foundation's plan to send a man and a woman there and back in 2018 without landing, have provided any solution for the top problem: surviving the jaunt through space.
Once out in the obsidian void, beyond the protective Van Allen belt, radiation will be at a level that will be more than a little uncomfortable and boffins have yet to come up with a way to shield any craft from the ramifications of exposure. But Lansdorp remains undaunted.
"The risks of space travel in general are already very high, so radiation is really not our biggest concern," he said. ®
Sponsored: Minds Mastering Machines - Call for papers now open