BYOD for our staff? 'Career limiting' move, says Dell exec
Turning up with rivals kit? Turn round and go back home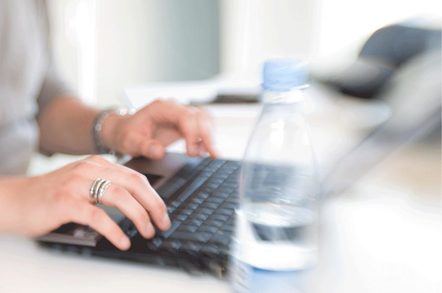 Dell is fully behind the bring your own device (BYOD) trend, just not for its own employees.
UK boss Tim Griffin said Dell has a raft of options for customers looking to accommodate staff who haul their own gear into the office but internally only offers its people BYOD on smartphones.
"Our BYOD is really around the mobile, as opposed to these [computing systems] which will always be Dell," he said.
It is worth pointing out that Dell doesn't have own branded smartmobes, so there is no conflict of interest there to ruffle the feathers of management.
"It is kind of a bit of a dilemma really. We're not going to say you can bring whatever you like because we are Dell and that is the business we are in," he told El Chan.
HP's former EMEA PC and printer boss Eric Cador told us last October that its internal policy was not to offer BYOD to the workforce, and this was unlikely to change in the short term.
Cador said staff needed to be proud of the technology HP develops and it would be embarrassing for the company and workers to bring rivals technology into the workplace.
Turning up with a Apple MacBook or an HP ElitePad probably "wouldn't be a good career move" at Dell either, quipped Griffin, who was made UK president in a restructure earlier this year.
BYOD is seen as a massive headache for IT directors but something that is desired by some in the workforce, particularly younger folk.
A poll of 232 IT managers by Insight last autumn revealed that nearly four-fifths of those surveyed did not plan to implement a BYOD strategy despite perceived productivity gains.
Griffin said it has a "full stack" of software and services that gives "assurances on security" and data management.
Sadly staff at Dell won't get to see how effective they are, or not, unless they go to work for a customer. ®
Sponsored: Minds Mastering Machines - Call for papers now open