Stop! Yammer time: Microsoft blats biz babble account hijacking bug
You can't touch this other users' logins, Miss Hacker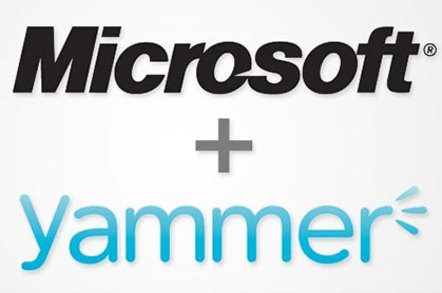 Microsoft has fixed a potentially nasty set of authentication vulnerabilities involving Yammer, the "Facebook for business" enterprise collaboration and social networking platform.
The flaws - discovered by Ateeq Khan, a security researcher in the Vulnerability Laboratory Research Team - would have allowed hackers to bypass the token-based Yammer account authentication system, and log in as users without knowing their corresponding passwords.
Vulnerability Laboratory discovered that, thanks to an insecure implementation of OAuth2 authentication protocol on the Redmond-owned Yammer network, "it is possible to steal other user profiles by simply requesting a leaked access token", which it turns out were not difficult to find.
During testing, Khan was able to find at least two valid tokens using Google search engine cache results via nothing more elaborate than a so-called "Google Dork", a search for sensitive stuff accidentally indexed by the advertising giant. In this case: site:yammer.com inurl:'access_token'.
Further testing revealed that by including the access_token string in a subsequent HTTPS request, it was possible to log into Yammer as the victim. The session is authenticated without entering any password credentials.
"This vulnerability results in a complete compromise of the affected accounts, user profile and the associated risk is critical," an advisory from Vulnerability Laboratory warns. "Exploitation of the vulnerability requires no user interaction and also no registered Yammer account is required. To capture the session the attacker can use a random empty session as form to request."
In a statement, Microsoft said it fixed the problem last week. It said the flaws, described by Vulnerability Laboratory as "critical", had not been used in anger against its customers:
On July 30, 2013, we released an automatic update to help protect our Yammer customers. We have not detected any attacks and there is no action for customers, as they are automatically protected.
Vulnerability Laboratory produced a proof-of-concept demo of the security shortcomings it discovered in Yammer before releasing a minimalist advisory on Sunday and a video illustrating the potential for mischief (see below). The footage shows how to exploit the session token vulnerability it uncovered during its research.
Khan picked up on the vulnerability on 9 July, notifying Microsoft a day later, just less than three weeks before a fix was applied.
The security researchers suggested a number of steps that Microsoft could take towards further securing Yammer - including applying always-on encryption - and tightening up the storage of crypto secrets (such as token credentials). However it's unclear if the software giant concurs with this advice, much less whether or not it intends to apply it.
Yammer is a marketed as offering a "private social network" that's used by 200,000 leading businesses worldwide and an estimated 8 million users. Microsoft acquired Yammer last year, placing it under the umbrella of the Microsoft Office Division. ®
Sponsored: Minds Mastering Machines - Call for papers now open