NBN builder Syntheo gives up in two States
Not enough money to be made digging holes and slinging cable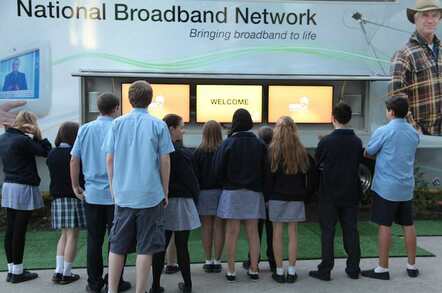 Syntheo, the joint venture between Lend Lease and Service Stream Limited that won contracts to build Australia's National Broadband Network (NBN) in the States of West Australia and South Australia, will down tools forever in those States early in 2014.
NBN Co's canned utterance on the matter says it and Syntheo " have mutually agreed that contracts due to expire in September 2013 and November 2013 in South Australia and Western Australia will not be extended."
Lend Lease's companion piece says the company will "control the delivery of Syntheo's remaining obligations under its agreement with NBN Co, subject to the satisfaction of approval conditions."
Syntheo's bits of the NBN should be finished early in 2014.
NBN Co says "this change is not expected to affect the overall cost of the project or the long-term completion of the build by 2021."
Neither party is saying why Syntheo has walked away, but scuttlebutt suggests the root of the problem is money, and specifically the fact NBN Co has offered too little of it to make building the NBN profitable.
Syntheo's decision to quit doesn't mean it is also walking away from NBN Co contracts in other states, so NBN Co's "steady as she goes" attitude is not just spin, especially as it has another construction partner in each of the effected States.
Outgoing NBN Co CEO Mike Quigley has insisted previous such problems with contractors were not a sign budgets are unrealistic, but instead teething problems.
Mounting evidence suggests otherwise and with Syntheo pulling the plug on the first day of Australia's election campaign, its departure will give the opposition more ammunition for its "the NBN is in chaos and likely to cost more than expected" argument. ®
Sponsored: Minds Mastering Machines - Call for papers now open