IBM gooses Flex modular systems with Power7+, double-stuffed Xeon E5
Cramming 10 pounds of data center into a 5 pound bag
Three new Power nodes for a diversity of users
In addition to the new Xeon E5 double-stacker, IBM is also trotting out three new server nodes for the Flex System based on its Power7+ processor.
IBM already put the Power7+ chip into its two-socket Flex p260+ server last fall. The server node is more or less the same as the original Flex p260 node from April 2012, which had pairs of Power7 chips. Specifically, customers could choose a pair of four-core Power7 chips running at 3.3GHz or a pair of eight-core variants running at either 3.2GHz or 3.55GHz.
With the Power7+ update last fall, this two-socket node was updated to have two four-core Power7+ chips running at 4GHz or two eight-core chips spinning at either 3.6GHz or 4.1GHz. IBM also doubled up the main memory capacity on the Flex p260+ node to 512GB through the use of 32GB memory sticks.
With Tuesday's announcements, there is a new skinnied-down p260+ node and a p270+ server, both of which are two-socket, single-wide nodes. And the double-wide, four-socket Flex p460+ is coming out with Power7+ chips.
The new Flex p260+ node is aimed predominately at customers who use Big Blue's proprietary IBM i operating system and relational database mash up, explains Howard to El Reg.
Most of the cores on the Power7+ chips used in this node are either duds or deactivated. In fact, only two of the eight cores are turned on in each of the sockets. But with double the memory controllers and lots of L3 cache (IBM is not saying how much of the on-chip L3 eDRAM cache memory is available), it will make a pretty peppy database and Java server so long as the workloads do not require a lot of CPU oomph.
Most importantly, the low-cored p260+ node is in the P05 software tier, which means IBM i and other systems and application software are considerably less expensive than the other p260 and p260+ machines, which are in the P10 software tier. (The operating system costs a one-sixth as much per core in the P05 tier than in the P10 tier, and this makes a big difference to the overall cost of the system.)
You can run AIX or Linux on the new Flex 260+ node – it is not restricted to IBM i.
The baby Flex p260+ can support up to 512GB of memory in its sixteen memory slots (eight per socket) if you use 32GB memory sticks, which are added in pairs like the processors. Most IBM customers will not want to pay a premium for this memory, so they will probably go with 8GB and maybe 16GB memory sticks, which are less costly.
The new Flex p260+ node has room for two 2.5-inch SAS disk drives, which are tucked under the lid of the server node, and which come in 300GB, 600GB, and 900GB capacities. You can put two 1.8-inch SSDs in the node if you want flashy storage instead; these have 177GB of capacity.
The node has two PCI-Express 2.0 slots for linking to peripherals, and there are a variety of Ethernet and Fibre Channel cards that snap into the mezzanine slots and hook into the Flex System midplane.
The base baby p260+ node with four cores running at 4GHz comes with a mere 8GB of memory and nothing else in the box; it costs $8,999.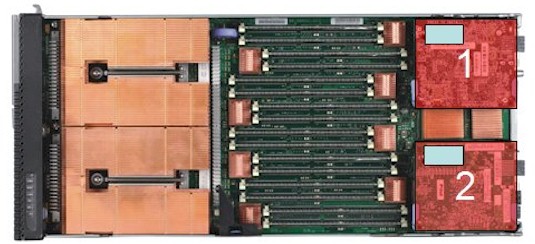 The Flex p260+ and p270+ servers look identical from the outside
The Flex p270+ server is a double-whammy node that has two whole Power7+ processors sharing a single socket. In this case, as with other rack-based Power Systems machines announced earlier this year, IBM is putting two six-core Power7+ chips in each of the two sockets, for a total of 24 cores per node. In this case, you can have the Power7+ cores spinning at either 3.1GHz or 3.4GHz.
The memory, drive, and networking options are the same on the Flex p270+ node as on the p260+ node above. One difference between the two machines is that IBM fires up a redundant pair of Virtual I/O Server instances atop its PowerVM hypervisor on this node by default, which is used to virtualize access to disk and network resources for logical partitions on the machine.
With the 3.1GHz processors and 128GB of main memory but no operating system or other peripherals, the Flex p260 costs $19,343. Jump the clock speed up to 3.4GHz on those Power7+ modules, and the price is $23,211.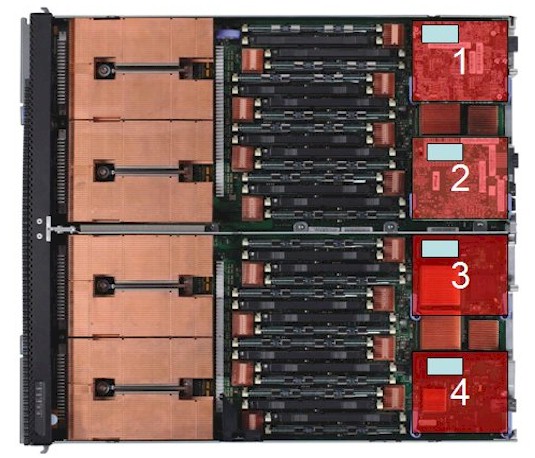 The Flex p460+ is a double-wide Flex p260+ with NUMA clustering across the nodes
The final new server node for IBM's modular system is the four-socket Flex p460+, which comes with two different Power7+ options. The p460 and p460+ is a double-wide server node that is essentially two p260-class nodes with a NUMA chipset gluing them together into a single system image for the operating system.
If customers have modest CPU requirements but need lots of main memory allocated to the cores in the system, IBM has a variant that uses four-core Power7+ chips running at 4GHz. If you need more cores and threads (the Power7+ has four threads per core) to smack that main memory around, then there is a version that uses eight-core Power7+ chips in those four sockets; these run at 3.6GHz and 4.1GHz. Either way, with the 32 memory slots in the box, main memory tops out at 1TB in the p460+ node.
Incidentally, IBM's announcement letter provides software tier information for IBM i for a machine called the p470+, which I presume is a four-socket box using two six-core processors in each socket. This machine was not announced on Tuesday – but it could be that such a machine is coming in the future.
The p460+ has room for two disks and has four mezzanine slots for peripheral expansion. The sixteen-core node with 4GHz processors and 128GB of main memory costs $32,307 with no other hardware on the node and with no operating system. The 32-core machine using 3.6GHz processors with 256GB costs $53,845, while boosting that node to the 4.1GHz processors increases the price to $59,230.
All of the new Power7+ Flex System nodes will be available on September 10. The Power versions of Red Hat Enterprise Linux 5 and 6 and SUSE Linux Enterprise Server 10 and 11 are supported on the new nodes, as with the existing ones in the Flex System line. So are IBM's own AIX 6.1 and 7.1 and IBM i 6.1 and 7.1 with the appropriate software patches. ®
Sponsored: Minds Mastering Machines - Call for papers now open