The Old Reader drops Google refugee eviction plan
'New corporate entity' takes over, begs users to stay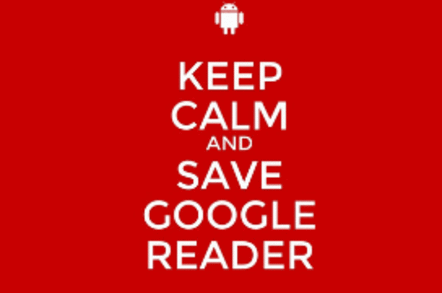 The Old Reader, the RSS reader that drowned in new users after Google switched off its own RSS reader and then decided to boot out those refugees, has reversed its position and will continue to operate as a public service.
In a blog post someone called "Ben Wolf" wrote "The application now has a bigger team, significantly more resources, and a new corporate entity in the United States." Plans are afoot for a migration that will mean the service uses "A LOT more servers" and "10x faster networks".
It also looks like new people will work on the site, as the post says "The new team will be managing the project and adding to the engineering, communications, and system administration functions." Founders Elena Bulygina and Dmitry Krasnoukhov will also continue to work on the site.
Reading between the lines here it is not hard to guess at what's happened. Mr Wolf, whoever he is (but probably not Harvey Keitel) has thrown some money at Old Reader to put it on a proper footing and/or sling some cash at Bulygina and Krasnoukhov. He's moving the site to the USA, because that's where he is, and has sufficient cash and human resources to operate and maybe even enhance the site a bit.
So who is Ben Wolf? A commenter on the blog announcement suggests this LinkedIn profile might be the man in question and that big data company Levee Labs could be the entity that now controls The Old Reader.
A quick Whois lookup produces a Ben Wolf as owner of leveelabs.com and his address as being in Wisconsin, a spot where there are quite a few levees along the eponymous and occasionally flood-prone river.
Levee Labs says it is in the business of "Helping businesses contain and leverage the web, cloud computing, and big data". That sounds like the kind of business that could benefit from perching atop 375,000 users' worth of RSS data. We've asked Levee Labs to confirm or deny the theory. ®
Sponsored: Minds Mastering Machines - Call for papers now open