Ken Brill, 'the father of data centers', powers down at 69
Creator of Tier system that took data centers mainstream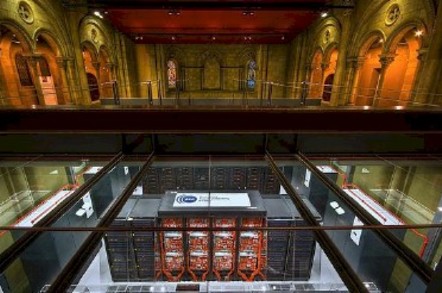 Obit Ken Brill, founder of the Uptime Institute and the man who literally set the standards for modern data center design, has died at the age of 69 after developing cancer.
"Ken Brill was inspired in his thinking, and resolute in his principles. As a personality and an innovator, he left an indelible imprint on the IT and data center industry," said Julian Kudritzki, COO of Uptime Institute, who worked with Brill for over a decade.
"His innovations are so fundamental to the progression of the data center industry over time that it is difficult to believe they can be traced back to the energy and passion of a single man," Kudritzki said. "With Ken's passing, the industry mourns a ferocious critic and committed agent of change."
Brill started his career in the 1970s making power-supply equipment for the IT industry, a business in which he boasted that he made and lost a million dollars, before moving into consultancy. In 1993 he created the Uptime Institute, with the goal of bringing some order to the then-disorganized data center industry.
At the time, there were few commonly agreed standards of design and operation for data centers, so if a company wanted to use one it had to trust the promises of each facility. In the late 1990s Brill introduced a four-tier ranking system, which graded data centers on their power supplies, fault tolerances, and expected downtime.
For the newly-emerging cloud industry, such specifications made the whole process of getting reliable online time much simpler. The standards became integrated into data center design world-wide and heavily influenced the American National Standards Institute's own four-tier system, which was released in 2005.
Brill also designed and patented a dual-power system for data centers to increase uptime, but he charged no royalties for its use – you'll find his technology in many server farms today. Power was a constant concern for him, and in 2007 he gave a now widely-cited presentation on the future for the industry covering "The Economic Meltdown of Moore's Law".
He postulated that Gordon Moore's famous prediction and other improvements in IT mean that server computation increases by a factor of three over a two-year period. Power efficiency, however, was only increasing by a factor of two, and this would mean an additional power consumption of 11.4x in little over a decade.
The talk is credited by some as kickstarting the move towards power efficiency, and a trawl through the El Reg archives shows that the number of corporate moves on green data centers grew from a trickle to a flood shortly afterwards. The Uptime Institute now certifies on energy efficiency and on the overall environmental impact of data centers around the world.
In 2009, Brill sold the company to analyst house The 451 Group, but remained hard on the job of tightening up data center design to increase efficiency and maximize output. "Ken Brill was a rare and special man," said its chairman Martin McCarthy in a statement.
"Part visionary thinker, part ruthless pragmatist, he was an iconoclast and innovator, and a man of great integrity and passion. He is legitimately known around the world as 'The Father of the Data Center Industry'."
Brill was a pugnacious and forthright speaker, and he continued working while being treated for his cancer. Kudritzki told CIO that he visited Brill at his home in the weeks before his death, and the two spent time discussing what new improvements needed to be made in data center design in the coming years.
"Part of the pleasure of seeing him, even in that state, is that the light was still shining," Kudritzki said. ®