Ministry of Fun launches news quiz - and the BBC is in its sights
Heyyyy... self-actualising media nodes: What do you think about your news-givers?
The Ministry of Fun* wants to know if you're getting the news you need: and the role of social media, Google and the BBC are all up for grabs.
The Department of Media, Culture and Sport has launched a consultation (PDF) into media ownership and plurality, defining the latter as "having a diversity of viewpoints available and consumed across the media", which was one of the recommendations of the Leveson inquiry.
The department wants to know whether traditional definitions of plurality are up to date, and if not, how it should be measured.
Since most UK citizens get most of their news from just one media giant — and its dominance is increasing — it's no surprise the corporation that loves to be called "Auntie" is under the spotlight.
Since 2002, the Secretary of State has been able to intervene in corporate media mergers, and has done so three times: Sky/ITV, Sky/News Corp and Global/GMG radio. Ofcom can also stick its oar in, and couldn't resist the temptation to seize the agenda recently.
The BBC will argue that more people than ever use more than one news source: 39 per cent use four news providers. However its reach has increased, to 86 per cent.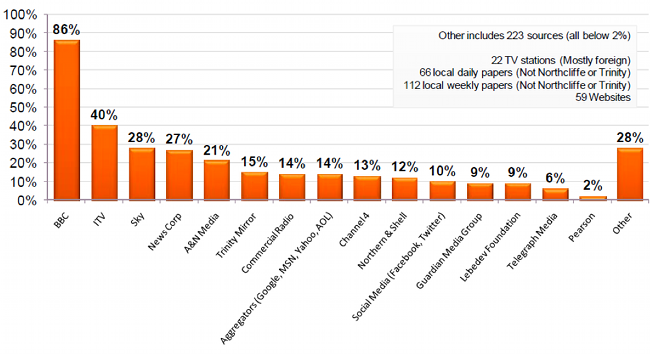 The BBC also dominates TV news consumption, with 65 per cent of adults using BBC1 for news, far more than the next news source ITV (37 per cent). BBC also owns three of the five most popular news sources, and seven of the top 10. TV is regarded as much more important than other news sources, such as newspapers, radio or the interwebs. The Ministry wants to know if Facebook and Google should be considered in a plurality measurement framework.
The Ministry also wants to know whether reliance on a single source, such as Reuters, or single aggregator, such as Google News, is healthy. It also throws in the question of bias, noting that by its own admission, the BBC has been struggling recently. The consultation document tactfully notes:
[T]he BBC Trust's most recent review of the breadth of opinion reflected in the BBC's output, found that the complexity of some issues and arguments related to the EU means that limits of time and space have inhibited the BBC's ability to give profile to a full range of opinions
Former director general Mark Thompson was also in strong agreement about that.
Ofcom, churnalism... What's not in there, but should be
There are a few things the consultation doesn't examine. One is the role of Ofcom, which the Conservatives once wanted to abolish. Ofcom has fancied expanding its empire into becoming a commissioning media company itself and took an activist role in the News Corp-BSkyB takeover.
Nor does it dwell on the effect on "diversity" when the same news story is simply regurgitated over and over again, which is probably more a characteristic of today's news industry than the influence of any one corporation. Alas, the consultation does little to prod responses into original news generation.
One option would be to tackle the BBC's vertical integration, obliging it to become a news wholesaler, as well as a news producer and retailer, and to share material with rivals. Naturally, rivals love the idea, as it lowers their own costs, but it's hard to see how this increases a "diversity of viewpoints". ®
* DCMS, or the Department of Culture, Media and Sport (aka Fun)