The Old Reader evicts Google Reader refugees
Tired, overworked operators reject the startup life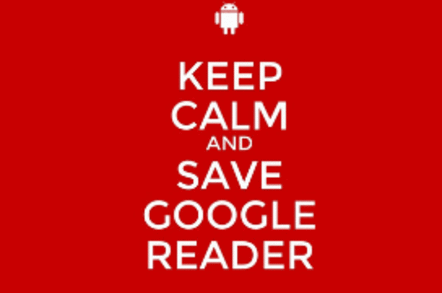 Google Reader alternative The Old Reader has told all of its new members to go away in two weeks.
To understand how we get here, remember that back in March Google announced it would kill Reader, its popular browser-based RSS reader. That was bad news for several hundred thousand (or maybe a handful of million) users, who like RSS readers and wanted to keep using one.
As those lost souls tried to figure out how to satisfy their future RSS-reading needs, many sources quickly noted The Old Reader was live and offered a decent almost-replica of Google Reader. As we noted last week, over 350,000 people migrated to The Old Reader.
That flood of new users meant The Old Reader's infrastructure started to creak, so it tried to migrate to a more robust rig. That attempt didn't go well and led to a protracted, but ultimately successful, rebuild and another 2,000 subscribers.
The effort of migrating and restoring the service seems to have drained its operators of the will to carry on, as explained in a new blog post that says the site will be shut for all but those its operators like and/or opened their accounts before March 13th, 2013, the day on which Google announced Reader would shutter.
"We'd rather provide a smooth and awesome experience for 10,000 users than a crappy one for 420,000," the site's operators Elena Bulygina and Dmitry Krasnoukhov write. The 10,000 can carry on as if nothing has happened. The rest "have two weeks to export your OPML file regardless of our decision."
The reason for the decision is, to summarise the post, that the operators want to spend more time with their families and doing paid work rather than doing all the stuff that comes with keeping a 350,000-plus user web service operating.
At this point some readers might be thinking "350,000 users … that's a decent foundation for a business!"
The site's operators have noted that too, but have the following attitude to taking the site commercial:
"For those who would like to start the usual 'VC, funding, mentor' or 'charge for the damn thing' mantras — please, spare it. We're not in the Valley where it might be super-easy, and, after all, not everyone wants to be an entrepreneur. We just love making a good RSS reader."
Those lucky enough to be offered continued service have been promised "faster refresh rate, more posts per feed, and properly working full-text search" For the rest of us,Feedly and Inoreader are still welcoming new accounts. ®
Sponsored: Learn how to transform your data into a strategic asset for your business by using the cloud to accelerate innovation with NetApp