QLogic's save-the-biz pitch: Ditch the switch glitch - get rich
Server adapter firm to focus on, er, server adapters...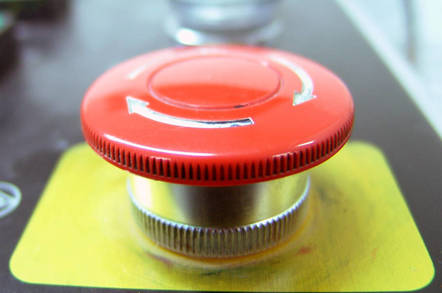 Troubled storage adapter supplier QLogic is getting out of the Fibre Channel switch business to save cash and focus resources on its adapters.
The news came as investors and analysts digested the firm's quarterly results showing its first loss in over two years. A flattish FC host bus adapter (HBA) and converged network adapter (CNA) market and startup costs for its Mount Rainier flash cache-enhanced HBAs did no good at all to QLogic's revenues and profitability, providing more painful background data to May's ousting of CEO Simon Biddescombe.
QLogic is making staff redundant and looking for $20m in cost savings.
In its first fiscal 2014 quarter ended 30 June, revenues were $113m, down 3 per cent on the previous quarter and 13 per cent on the year-ago quarter - a gentle slide in revenues. There was a loss of $3.1m, contrasting starkly with the previous quarter's $29.6m profit and the year-ago quarter's $18.4m profit.
The loss included "special charges of $12.0m recorded in connection with the restructuring plan."
CFO and interim CEO Jean Hu provided the product line discontinuance news in the earnings call, saying:
After careful and comprehensive analysis, we decided to cease development of all future ASIC switch products. This decision included both future Fibre Channel and the Converged switch ASICs. This decision does not affect any [currently] shipping switch product, which we'll continue to sell. It also does not affect certain near-term OEM switch development and qualification programs, which we are committed to complete for our Tier 1 customers.
Currently shipping product includes the 3000, 5000 and 9000 series of switches, which generally compete with switches from market-leader Brocade and 800lb gorilla competitor Cisco. Relatively speaking, QLogic is the size of a tadpole in the switch market and has nowhere to go but the exit door.
The restructuring process is largely done and QLogic is now safeguarding its FC HBA business by encouraging adoption of the latest 16Gbit/s technology, adopting the Gen 5 tag beloved of Brocade, and working on the next speed jump to 32Gbit/s, Gen 6.
What's the outlook? QLogic doesn't expect any significant revenues from its Mt Rainier technology products until fiscal 2015. Expected revenues for its second fiscal 2014 quarter are between $108m and $116m, meaning a slight decline from this quarter's revenue at the mid-point.
Vulture Central worries that the establishing PCIe flash card market, and QLogic's HBAs are PCIe flash cards, could pass QLogic by. It is going to have to demonstrate that its flash-enhanced storage adaptors are better than PCIe flash from EMC, Fusion-io, Intel, LSI, Micron, Samsung, SanDisk, Violin, and WD/HGST.
These are formidable competitors with formidable software additions in some cases, and NVMe/SCSI Express access standards are coming, adding to QLogic's development complexity. QLogic is not out of the woods yet and has some distance to go. ®
Sponsored: Minds Mastering Machines - Call for papers now open