Taiwanese boffins monitor mastication with Bluetooth tooth
Real time streams of data to your doctor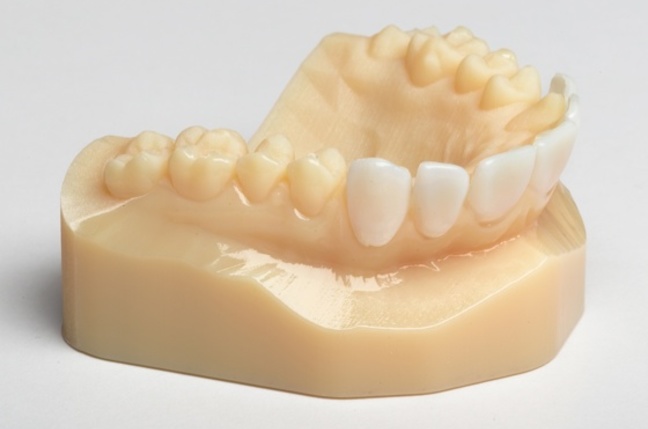 The UbiComp Lab , a wearable computers think tank at Taiwan's National University, has devised a Bluetooth-equipped false tooth to monitor your mastication and plans a successor device capable of distributing the resulting data in real time.
Detailed in a paper titled Sensor-Embedded Teeth for Oral Activity Recognition (PDF), the paper is very keen on the potential for data capture from the human mouth, which it describes as "an opening into assessing the health of the human body" through "food and fluid intake monitoring". The mouth therefore"presents the opportunity for the placement of a strategic sensor for detecting human oral activities."
The boffins' answer is the tiny circuit board depicted below. The board contains an accelerometer and other widgets capable of monitoring the mouth and detecting coughing, chewing, drinking or speaking.
The general idea behind the research is that if doctors can access data about what you eat and drink, they can give you a dressing down for knocking back a bucket of fried chicken with two pints of stout for lunch every day.
While the test boards used on eight patients used thin wires to link to a recording system, the boffins envisage a tiny Bluetooth radio in future test units. Users (wearers?) could either pop the tooth out at night, so it could recharge on an induction unit and do a daily dump data dump, or agree to link their tooth to a mobile phone and collect data all day in real time.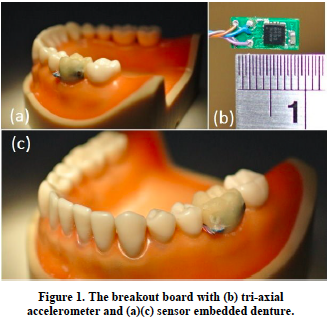 The boffins say they have a lot of work to do to get to that stage, as the test units had to be equipped with "a safety string … so that participants would not be able to swallow it." They also hope "to improve the accuracy of our system's activity classification."
Might that mean an in-tooth sensor that figures out what you're saying? We can imagine the plot already: "Bond woke up in the Russian jail with a toothache, which is just the sort of thing he expected after the beating the FSB operative dished out the previous night … " ®
Sponsored: RAID: End of an era?