Wikipedia switches on mobile editing
Editing for everyone, not just bored commuters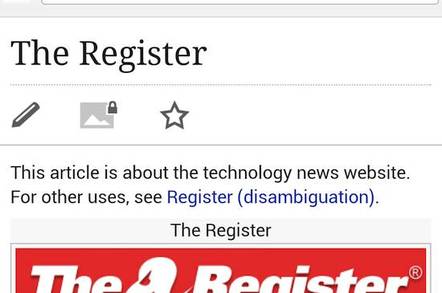 The Wikimedia Foundation has flicked the switch on its mobile editing feature, allowing anyone with an account to edit Wikipedia articles on just about any mobile device capable of rendering HTML.
The Foundation's aim is not to help you fill time during your commute. Instead, it says the new feature's been developed because it "... had to do more to let anyone with Internet access contribute to the sum of all human knowledge."
The 15 per cent of Wikipedia users who currently access the site on mobile devices are the "anyone" of special interest on this occasion, because the Foundation is assuming they may not also have a PC with which to edit the encyclopaedia. That's a not-unreasonable assumption based on our piece from yesterday about adoption of mobile devices in the developing world.
The editor is simple to access: articles now include the pencil icon you can see in the screen shot below, captured in Chrome on a Samsung Galaxy S4.
Clicking on that icon produces a very simple editor that reproduces a Wikipedia article in text with the option to use a few markup tags. Tapping inside the editing field invoked the handset's virtual keyboard, at which point the usual fat-fingered typing fun begins.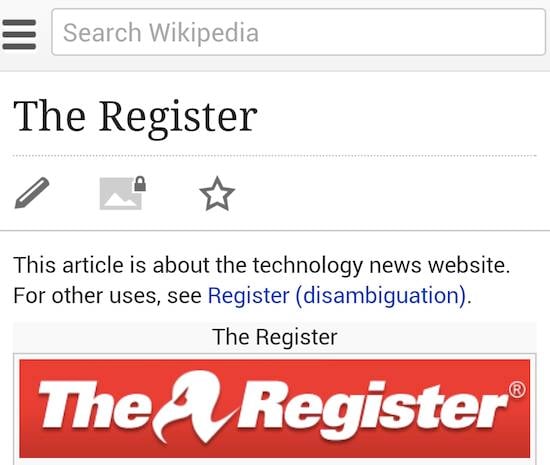 The pencil icon at top left appears in all Wikipedia articles
on mobile devices invokes the mobile editor
The editor does not offer stellar experience and our brief experiments with it suggest typos will be hard to avoid, but the Foundation says it didn't want to go for lots of bells and whistles in its first release. The post announcing the new feature offers the following logic:
"For our first release, our primary goal was to create a fast, intuitive editing experience for new users and experienced editors alike, while still sticking with markup editing for now. We started simple so we could observe our users' needs and expectations."
It's hoped that observing users wrangle this editor will "let the Foundation " … learn more about the kinds of edits people make on mobile " so it can "build more advanced features, including possible Visual Editor integration, in future releases." ®
Sponsored: Minds Mastering Machines - Call for papers now open