IT Crowd thesp eyes giant hot-air-filled FLYING SCROTUM
Chris O'Dowd's 'SkyBalls' balloon to battle testicular cancer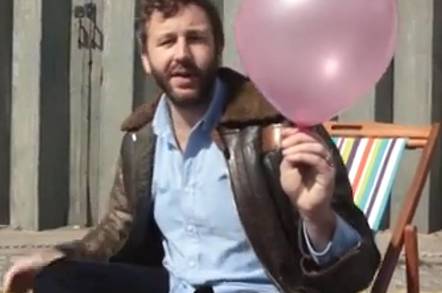 Actor Chris O'Dowd is backing an audacious plan to constuct an enormous flying 'nad sack - an "impossible to ignore" hot-air-filled scrotum designed to "combat the ignorance of testicular cancer".
Here's The IT Crowd man himself giving the background to the Male Cancer Awareness Campaign's "Skyballs":
As you can see, the project has some top operatives working on its inflatable plums, although it still has a way to go to reach the £100k it needs to menace Middle England with a "massive pair of flying gonads".
Those of you with the quite understandable desire to see a couple of meganuts drifting above the Home Counties, as Daily Mail readers fire up the Twat-O-Tron, can lend your support right here. Donations to this worthy cause start at a quid, but if you're feeling flush, £1,000 gets you a guaranteed flight on a SkyBalls flight as the balloon pops up in Blighty, Europe and the US in 2014.
For a cool £10,000, the airborne knackersack will lift you heavenwards at the location of your choice - an option nicely described as "Los Cojones Grandes". ®
Bootnote
We're hoping SkyBalls lives up to its claim to be "The World's Largest Flying Scrotum". Back in 2001, German winemakers in Franconia launched a 35m-high representation of a "goat's bag" to protest against EU plans to allow other vintners to use their distinctive Bocksbeutel bottle.
Sponsored: Minds Mastering Machines - Call for papers now open