BT's not at home to Mr Profit, but its lordly boss probably isn't too fussed
See, this is how you do it, m'lord Livingston will say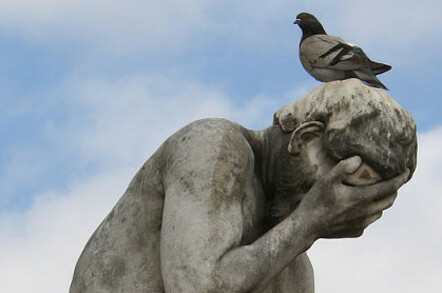 The past few weeks over at BT Towers have been busy, fraught and disruptive. But there was no ray of sunshine in the telecom giant's latest financial results out today.
The company reported flat revenue growth and a significant decline in pre-tax profit this morning for the quarter that ended on 30 June.
It pulled in total revenue of £4.44bn - down one per cent year on year - during the three-month period. Profit before tax tumbled 16 per cent to £449m compared with £578m for the same period a year earlier.
Earnings per share grew conservatively to 5.9 pence from 5.6 pence in 2012.
The money market reacted by dragging shares down nearly 2 per cent to 335.50p on the London Stock Exchange immediately after BT's fiscal Q1 results were announced.
The one-time national telco's boss Ian Livingston - who is leaving his post at the end of the year to take a front-bench trade and investment Tory seat in the House of Lords - claimed BT was making "good progress" even though "regulation" and "significant investments" were hitting the company's bottom line.
On BT's broadband deployment, he claimed: "Fibre remains at the heart of our plans and take-up is strong. Our fibre network now passes more than 16 million premises with more than 1.7 million connected."
Meanwhile, 5.1 million BT customers are wired up to its broadband network via the firm's copper cabling.
Every division of BT's business, with the exception of flat sales in the telco's retail wing, took a revenue dive. Wholesale suffered the biggest fall, reporting three-month sales of £638m - down 6 per cent from £678m for the same period a year earlier.
The telco has slapped tons of cash on BT Sport, which now has 500,000 subscribers signed up to it, in a move to compete with BSkyB's TV offerings. It said that its retail division will gulp £100m earnings before interest, taxes, depreciation and amortisation in programme content costs during the second quarter.
BT said it was hit hard in its Openreach wing by regulatory price changes on its WLR (wholesale line rental), LLU (local loop unbundled), ISDN30 and Ethernet products - pulling sales south by around £60m. It claimed that the five per cent droop in revenues was "partially offset" by growth in fibre broadband sales. ®
Sponsored: Minds Mastering Machines - Call for papers now open