Cloud rains cash for EMC: VMWare win means Tucci's team can take it easy
'Accelerating double-digit growth' keeps the analysts chirpy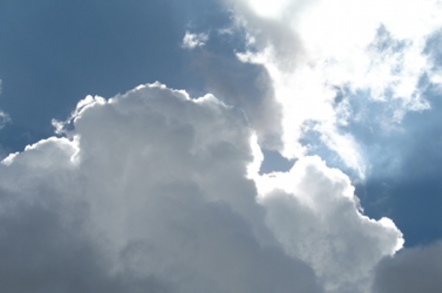 EMC did the business in its second calendar 2013 quarter, notching up solid gains in revenues and profits. Revenue was propped up by brisk trade in cloud virtualisation services from VMware and sales of scale-out NAS storage from its Isilon unit. The RSA and Information Intelligences groups slowed EMC down a smidge, however.
Second quarter revenues were $5.6bn, 3.9 per cent higher than the preceding quarter and 5.5 per cent up on the year-ago quarter. Net profit was $701m, 21 per cent more than the prior quarter and a 7.8 per cent increase on a year ago.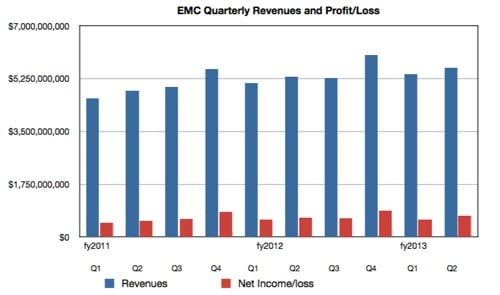 EMC quarterly revenues and profits to Q2 2013
Within these results, EMC recorded "continued steady growth from EMC Information Infrastructure, double-digit growth from Pivotal and accelerating double-digit growth from VMware," CEO Pat Gelsinger is driving VMware well.
EMC's Information Infrastructure business revenues grew four per cent year-on-year, and featured:
39 per cent year-on-year growth to $300m for its Emerging Storage business, which includes Isilon scale-out filers, XtremIO and vFlash flash, Atmos, VPLEX, RecoverPoint and ViPR. This segment recorded $250m in the first quarter.
5 per cent growth to $1.21bn and market share gains for VMAX. There was no change from the first quarter though.
Improving growth for its Unified and Backup Recovery business, meaning VNX, Avamar, Data Domain, NetWorker, Disk Library, Data Protection Advisor and Mozy.

This segment's revenues were $1.49bn, up $110m from the first quarter but only $40m higher than the year-ago figure of $1.45bn. A VNX refresh is expected before the end of the year, possibly in the third quarter, and this should boost the VNX portion of this segment's revenues.
EMC's RSA security business revenues grew three per cent year-on-year to $228m but were down $5m on the first 2013 quarter... oops.
Another ugly duckling, as ever, was the Information Intelligence business, Documentum, etc, which "continued to make progress during the quarter on its transition to more cloud-friendly offerings and vertical-based solutions," and recorded revenues of $152m, $3m down from the previous quarter's $155m, and a million down on the $153m recorded a year ago.
Revenues for the Information Infrastructure business, less RSA and Information Intelligence revenues, were $3.9bn.
We're told VCE, the maker of Vblock converged EMC/VMware and Cisco server, networking and storage systems, made progress with strong year-on-year growth, but no number was supplied. The VSPEX reference architecture equivalent also flew off the shelves - EMC partners have apparently sold 3,600 VSPEX systems since the April 2012 launch.
Revenues from all EMC geographies increased:
four per cent in US to $3bn.
six per cent in EMEA.
12 per cent in APAC and Japan.
12 per cent in Latin America.
CEO and chairman Joe Tucci talked of a cautious IT spending environment and said EMC expects to record $23.5bn revenues for the full year and $3bn profit.
It appears to the El Reg storage desk that high-end array (VMAX) revenues are flattish and stable, the mid-range appears to be slowing and needing a VNX refresh boost.
The emerging storage segment is booming, with Isilon leading the way, and high hopes, we think, resting on the XtremIO flash array and vFlash hardware and software area. This flash product area ought to be a high-growth one for EMC towards the end of the year and into 2014.
The RSA and Information Intelligence businesses are comparatively small potatoes, judged by EMC standards, and not doing well. We guess they're profitable, we certainly hope so, but they don't seem to have any real energy behind them and EMC is soldiering on with them while powering ahead with its other storage businesses, zooming ahead with VMware and wanting Pivotal to be, well, pivotal, and become a major business in its own right. ®
Sponsored: Minds Mastering Machines - Call for papers now open