Australia to world: Ploughman, dig our rare earths
Maybe it's time to call them 'slightly rare earths, courtesy of supply and demand'?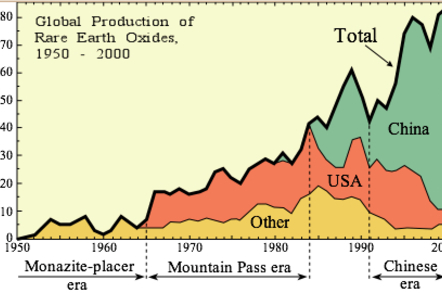 Last year, the world noticed with more than a little trepidation that China was hoarding rare earths.
The Middle Kingdom owns an awful lot of the world's known retrievable deposits of Scandium, Yttrium, Europium and Erbium that are often used in minute-but-critical quantities inside all manner of gadgets, and had made it rather hard for other nations to get their hands on them. China also conducted something of a go-slow on the mining front, keeping rare earths in the ground rather than letting them reach the market.
Such was the concern about China's behaviour, which saw the nation mine slowly to keep supply low and prices high, that the World Trade Organisation was called in to set things to rights.
The WTO may not have been needed, because as we've previously noted , China's attempts to control the global market didn't work out as planned, largely because it was not the only entity to spot a likely increase in demand for rare earths. Those other entities got their mines up and running, got product to market and gave suppliers alternatives that made China's plan redundant.
Enter Australia, which last week emitted a document titled Critical commodities for a high‑tech world: Australia's potential to supply global demand (PDF) that says the island nation is home to lots of rocks that will interest gadget-makers and others who like rare earths and other useful stuff for making high-tech stuff.
For rare earths, the report says Australia possesses deposits in the uppermost category of potential.
That assessment is partly based on an assessment of global demand for resources that includes ratings for risks to supply. Australia's political stability means it is a reliable supplier, so it may be that the nation's rare earths deposits aren't stellar but that the likelihood of steady supply is very high.
Whatever the likelihood of rare earths coming from Australia to the world, it's important to look at the report through the prism of Australia suffering as investment in mines for gas, coal and iron ore declines markedly, in line with global prices for the first two commodities. That investment slowdown has helped to slow Australia's whole economy. Anything that shows Australian mining has a stonking future, as this report does, plays well domestically.
The source of the report: Geoscience Australia (GA), the geoscientific data collection agency for Australia's federal government, also has a barrow to push. GA maintains a remarkable archive of geoscientific data: its Canberra data store holds many petabytes of recently-replatformed tapes and is often held up as an exemplar of how to manage data so it is accessible, not just protected. While the agency can be justifiably proud of that asset, it's natural for it to talk it up, and the report does that to a degree.
Whether actual miners can translate the data mining in the report into actual mines is therefore uncertain.
Perhaps the best reason for that uncertainty was divined by Mark Twain, who is reported once to have defined a mine as "a hole in the ground with a liar on top." ®
Sponsored: Minds Mastering Machines - Call for papers now open