Leap Motion Controller: Hands up for PC air gestures. That's the spirit
Give that annoying app the finger with new USB widget
Quick guide to disaster recovery in the cloud
Pitch, roll and yawn?
Selecting menus, for instance, requires moving your hand forward to lock the Touchless' cursor onto the name. It's a straightforward gesture, but hard to get right simply because it's so easy to move your hand only very slightly but nonetheless far enough to catch a different menu or a window's title bar. To release it, you have to move your hand away from the screen again, at which point you're just back to square one.
I found this back and forth movement, trying to zero in on small screen icons with only visual feedback, a real struggle and very frustrating. I found myself time and time again just reaching for a mouse instead. Friction stops a mouse gliding around the desk, but held-out hands do not stay perfectly still no matter what, and the Controller's high resolution means that even very slight movements are captured and processed. Hands don't move in straight lines; they move in arcs as they pivot around wrist and elbow joints. Mice, because they're constrained by desktops, do move in straight lines.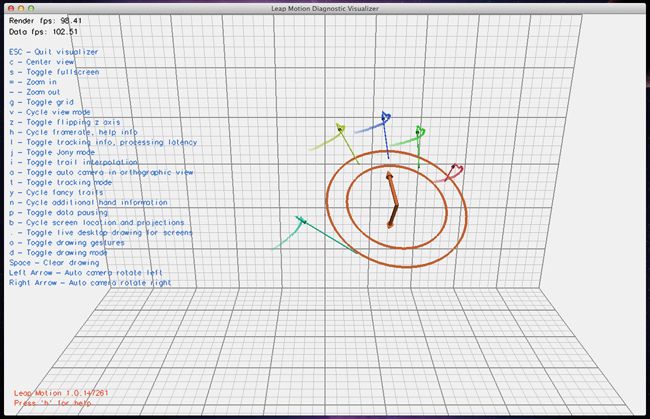 You can't do much with the Controller until you download apps from Airspace
Tactile feedback, and the way the inertia of physical peripherals helps keep your hand steady, count for more than you realise when you're trying to be precise.
This is particularly an issue for those of us who have now been using a mouse for so long that we move our left or right hand to it instinctively. It's why I rarely use the touchscreen on my Lenovo Thinkpad Ultrabook: I just naturally, unthinkingly reach for the trackpad, not the screen.
You might be willing to put in the effort to train your hands and arms - practice will indeed make (almost) perfect - if Leap Motion's control system allowed you to do things you can't do with other devices, but it doesn't.
Apps add new gestures, such as circling a finger - think of using an old rotary dial phone - to scroll up or down, but I encountered no actions that couldn't be achieved with a traditional input device. In some cases, such as Emantras' educational app Frog Dissection, it would have been easier to use a touchscreen or trackpad.
Indeed, I'd say that the growing support for multi-touch gestures on ever bigger trackpads is much more useful than Leap Motion's technology. The two-, three- or four-fingered gestures are straightforward and easy to learn, you have tactile feedback from the surface of the pad; more importantly, your hands, if they're on the keyboard, are so close to the trackpad, you expend very little energy moving them back and forth.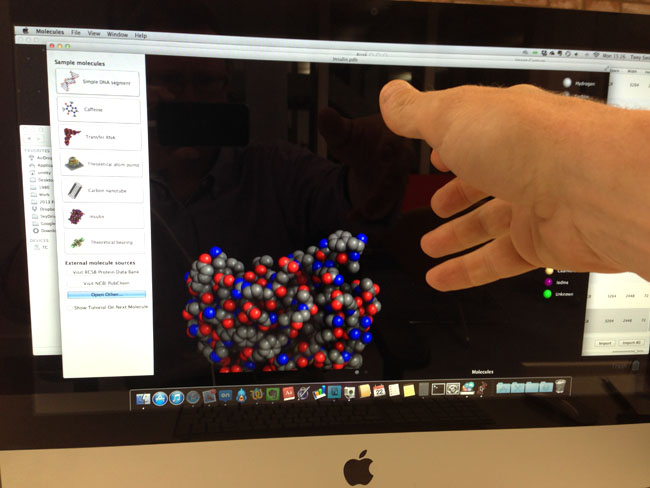 Manipulated a molecule - but you still need a mouse to select ove
It has to be said, however, that the Controller, and devices like it, do have the potential to allow users to work with data in a way they've not been able to do so before. Leap Motion CTO David Holtz says he was inspired to create the Controller by the desire to find a way to model virtual clay that was as subtle as working with the real thing can be. I can see the emergence of specialised applications that will make use of the Controller in innovative and interesting ways.
But I'm not convinced we're about to see a sudden, sharp shift in computer control that we most recently saw with the arrival of the touchscreen on phones and then tablets. And we're certainly not on the verge of some Minority Report-style 'wave your hands around' reinvention of the computer-user interface, even though there are a few situations that could do with it. Turning the pages of a virtual recipe book when your hands are all floury and eggy without actually touching them will be a godsend to cooks. But I can't see the rest of us reaching for it.
That won't stop desperate computer makers from reaching out for Leap Motion - or going their own way - as they attempt to use the technology's novelty to persuade tablet-hungry punters to buy computers again. HP is already working on Leap Motion-powered kit and so, Leap Motion claims, are others. Asus has said it'll bundle the Controller with future machines. Throwing touchscreens at laptops and all-in-one desktops hasn't helped the sales of either, and I don't think Leap Motion technology will either.
The Reg Verdict
Leap Motion's much-hyped hand-detection control system is a gimmick, and we've seen those before. Sony's motion control system, Move, was a flop, and Kinect, which is technologically more sophisticated than Move, hasn't exactly set the gaming world alight either.
Both were devised primarily to tap into what Sony and Microsoft believed was underpinning the success of Nintendo's Wii: motion control. Perhaps it was, but such technology has done little to boost the fortunes of the PS3 and Xbox, largely because there are so few situations where it actually makes sense to implement. Gamers by and large prefer the controllers they know.
And I think many computer users will likewise stick with the peripherals they're accustomed to. That's no slur on Leap Motion's technology, which is impressive and full of potential. But that potential can only be realised with both good software and, most of all, an appropriate application of the control it provides. ®

Leap Motion Controller: Hands up for PC air gestures. That's the spirit
A tiny device that tracks the movement of your hands in front of your computer. A new paradigm in computer input? Maybe - if good software emerges.