Lenovo ThinkPad Helix Ultrabook: Your new summer convertible?
Core i7 and a 10-hour battery life - but is it enough...
Evaluating the cost of a DDoS attack
Packing heat
Another niggle is the power button, located on the side of the tablet edge. This is too recessed and stiff for my liking. I could never be sure if the Helix was about to fire up or if I'd not pressed it hard enough.
Yet talking of starting up, the Helix takes around eight seconds to boot from cold to the login screen and manages a Windows Experience Index figure of 5.5. From sleep it's awake as soon as the lid tablet hinge is upright.
With the PCMark 7 benchmark it notched up a score of 4792 in balanced mode and a fairly meagre increase to 4842 in high performance mode. Running PowerMark to test battery life for the complete combo went some distance, clocking up five hours 36 minutes under load, such is the endurance of a dual battery pack and seems in line with Lenovo's claims of eking 10 hours out of it with some energy-saving tricks.
Edge connectors: vents and latching slots also adorn the Helix tablet
As a tablet, the Helix is flattened off on one edge to facilitate the docking along with access to the USB 2.0 port, SIM card slot and DisplayPort connector. It's a design not too far removed from the Atom-powered Lenovo ThinkPad 2, which also featured a rather more basic Bluetooth keyboard stand.
There are ducts and speakers along the base too, but alas, no SD card slot and for some, the lack of HDMI will come as a disappointment That said, mini DisplayPort can handle audio on some Apple devices. It's unclear if the Helix can do the same but with an HDMI adapter you might get lucky.
Either way, if you want audio you'll not be too thrilled with the speakers on offer, which are a bit weedy but thankfully not too brittle. The Dolby Theatre v4 control panel makes some improvements but you'll need to be running VLC Player and take advantage of its audio output level boosting to get a decent volume out of the Helix. Still, there's the mic/headphone combo jack socket option if you're keen on personal listening.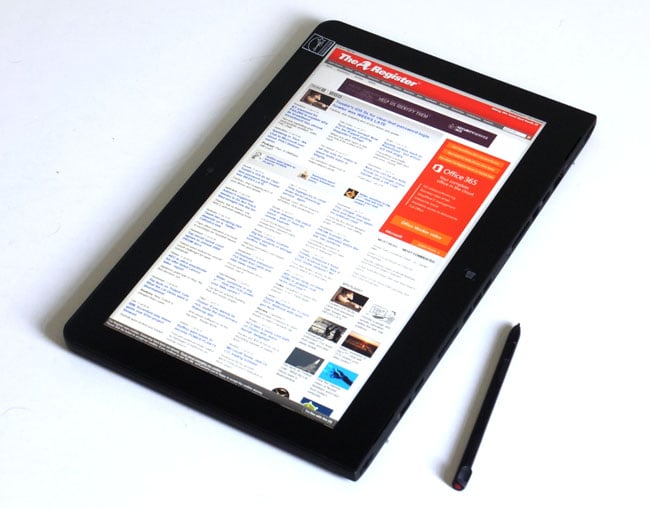 A good read: portrait mode on the full display works well for browsing
The Helix has two cameras, a 2Mp webcam and a 5Mp snapper on the back. It will even record 1080p video to match the screen, but playback on VLC revealed it was captured at 12fps.
The audio isn't great either, rather too bubbly and tweety for my liking. If you nose around the Sound settings and turn off Enhancements, this improves matters. These treatments are designed to suppress background noise but tend to be a bit overzealous. As for the stills, zoom in on the image detail and it's all a bit messy, but the camera autofocus is responsive so it's OK for snaps.
As on the ThinkPad 2, the Helix has Sugarsync pre-installed for alternative Cloud coverage, although I'd guess most logging in with a Microsoft account would have, until recently, relied on SkyDrive.
There's the usual crop of Lenovo apps too, including System Update which takes care of all the various machine-specific extras. This comes in handy if you do a System Refresh which erases just about all the non-MS apps. I had to resort to this with the sickly Helix one as I couldn't get Office 365 to install. I got there in the end, but on Helix no.2 it installed on first try.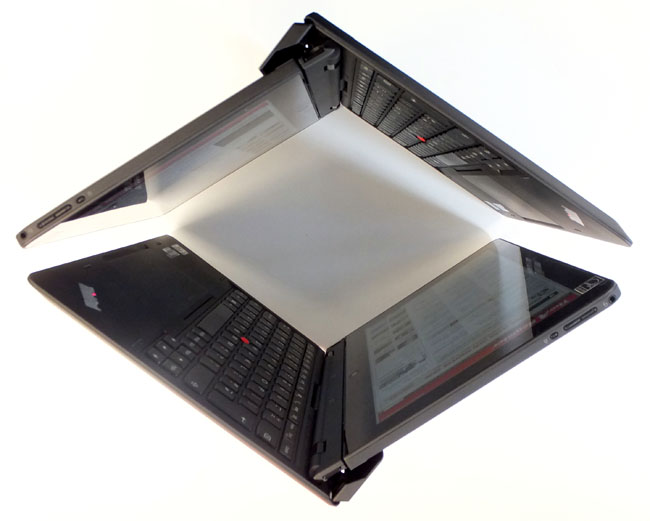 Double Helix: but which one is the evil twin?
Admittedly, having spent so much time battling with what can only be described as a faulty PC, my Helix experience was somewhat soured, but I certainly got to know it. Again, the lefty issue of an off-centre trackpad plagued my usage with accidental right-clicks. Having no physical click-area divisions here, it was more of a problem than usual.
The Reg Verdict
Being a Core i7 machine it's definitely a fast mover but it does get quite warm even with modest demands. But then again, we've been having a bit of a heatwave here in Blighty so environmental conditions are not exactly the norm. As convertibles go though, there are quite a few if-onlys... the screen tilt being the one that grates the most, especially when knuckling down to some serious typing.
Still, it seems like Lenovo has the right idea with this combo and a more laid-back revision with a Haswell processor would be hard to ignore. One thing that can't be overlooked, though, is the price. And with last year's chip in there, even though it is a Core i7, and a BTO Sony Vaio Duo 11 with identical spec for £500 less, the cost of the Helix seems like a big ask. ®

Lenovo ThinkPad Helix Ultrabook: Your new summer convertible?
Convertible 2GHz Core i7 Ultrabook with a 1920 x 1080 resolution Corning Gorilla glass touchscreen, 8GB of RAM, 256GB SSD, 2 x 2 WiFi and a 3G modem.
Price:
£1600 (128GB SSD), £1861 (256GB SSD + Win8 Pro) RRP