As-a-service army lays siege to Microsoft partner gig
Quarter of partners at WPC 'born in the cloud'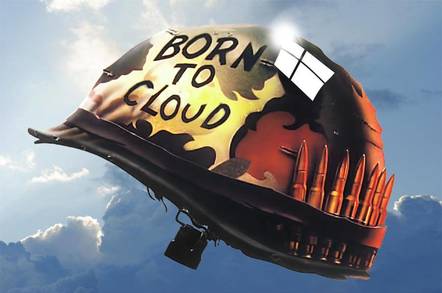 Quite a few "WPC newbie" channel businesses were milling around Microsoft's Worldwide Partner Conference in Houston, Texas last week, the vendor told us - and most of them were cloudy as-a-service startups.
Some 15,000 channel partners attended the global gig last week, compared to 16,000 in 2012. A whopping 4,000 of these were entirely new, the local operation confirmed to us.
Janet Gibbons, UK and Ireland director of partner programmes and strategy at Microsoft, said the channel team had yet to do the analysis but indicated that a "third of the partners are new to WPC".
"What it says [to me] is there are a lot of companies seeing the cloud opportunity, starting up successful channel business," she claimed.
One stat rolled out by Microsoft execs at WPC was that 22,000 channel partners worldwide sell its cloudy wares - Office 365 and the Azure platform - out of 650,000 partners in total.
That is just 3.38 per cent of channel pals that have bought into the idea of selling Microsoft's technology as a service.
Channel engagement perhaps hasn't been helped by Microsoft also selling Office 365 directly, or by the process that it had forced partners to hand over customers' details so it could bill them directly.
In the UK there are 2,200 Microsoft service provider advocates "actively selling cloud services", said Gibbons.
She rattled out the typical scare mongering warning story for the "traditional channel" that if they don't "adapt like we had to, there is an opportunity for somebody else to talk to your customers about cloud".
Microsoft took the best part of 10 months to launch an Office 365 SKU through distribution - it expanded the portfolio at WPC '13 - and last summer and this spring upped the money partners can make.
Tim Wallis, CEO at Office 365 poster boy Content & Code, agreed there were a lot of "born in the cloud" type organisations attending last week's WPC but there were also the classic Microsoft partners there too.
"We sold 25,000 Office 365 seats last year, and are seeing our on-premise business be just as robust as ever," he told us.
This is because most customers have a "ton of servers and bespoke applications" that cannot be easily picked up and moved to the cloud, though specific workloads can.
He said the move to cloud will be a gradual "long term" shift with specific workloads migrated first and foremost, but could not see corporate enterprises with in-house IT resources moving wholesale to cloud any time soon. ®
Sponsored: Minds Mastering Machines - Call for papers now open