Egnyte flips the bird at storage big boys, adds Google Drive access
We'll banish storage vendors' lock-in, says cloudy vendor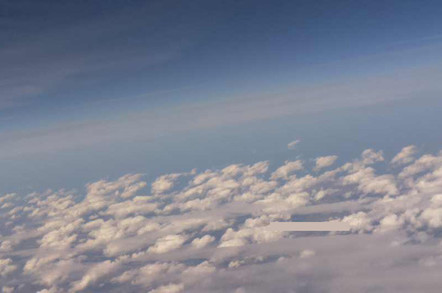 Egnyte has added Google Drive access to its BYOD file access, sync'n'share mix, further weakening the mainstream storage vendors' hold on file data access.
The startup offers file access, sharing and synchronisation services across end-users' various smart devices, from desktop through laptops and tablets to mobile phones, through its Cloud File Server (CFS). This stores files either on-premise in NAS boxes, in Amazon, Google or Azure clouds. or in Egnyte's own data centres (background here). It's a BYOD bridge between on-premise storage and cloud storage.
What it has now done is to add Google Drive as another cloud back-end, so that users can see any file they have stored on the Chocolate Factory's drive in the sky, in the same namespace that they see any other file accessed through CFS. In effect Egnyte is trying to capture front-end data access from on-premise and in-cloud file storage services, a hybrid approach, and using its Bring Your Own Device (BYOD) file sync'n share - as well as cloud storage - as a lever to do so.
It's relying on mainstream file storage array vendors not supporting BYOD users as well as Egnyte does, and not integrating public cloud storage offerings into their on-premise array file data access. It's also relying on cloud storage services, like S3 and Azure, not replacing on-premise arrays but not integrating their access into their own cloud storage access facilities.
Egnyte's bet is that it can grow by providing a common, all-embracing front end for file access across on-premise and cloud storage.
It says it now provides "end-users with one simple view of all the files they need – Google Drive, Microsoft Office, CAD drawings, images, multimedia, etc. – and enables them to access those files from anywhere, whether that's in the cloud or via on-premise storage."
Users can store Google Drive and MS Office files side by side inside secure Egnyte folders to create a unified namespace of their files across their smartphones, tablets and computers. There is no need for these users to have their own Gmail accounts either. A Storage Sync feature enables them to access their files via enterprise storage NAS and SAN devices from NetApp and EMC.
The business' IT department controls this multi-mode file access with centrally-managed access permissions and the ability to have auditing of all login, file and folder activity in real-time.
Vineet Jain, Egnyte's CEO, says: "This … Google Drive integration makes enterprise users even more productive by providing a single, simple view into all files they have access to, no matter where those files are located - on-premise, in the cloud, or in Google Drive."
He's betting that customers will want their users to access their files in the same way and through the same facility wherever they are located; on-premise, in relatively unstructured public clouds like S3, and in the more structured Google Drive environment, all of which is presented as a single logical file:folder space.
BYOD and the cloud is prising open the storage array file data access lock-in. Egnyte sees the chance to prise file access away from the cold dead hands of the storage array vendors, while preventing individual cloud storage service file access dependency too. ®
Sponsored: Minds Mastering Machines - Call for papers now open