Dell board delays vote on private takeover deal
More time for Big Mike and Friends to ponder their options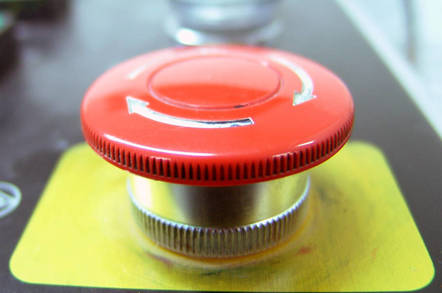 As has been rumored for days, the special committee of Dell board members in control of the proposed private takeover deal put together by company founder Michael Dell has put off the shareholder vote for the deal.
The ceremony to give the thumbs up or thumbs down to the $24.4bn deal put together by Dell, the man, Silver Lake Partners, Microsoft, and a bunch of banks was supposed to happen on Thursday, but is now going to take place a week later on July 24.
In a short statement, the Dell special committee said that the meeting was convened and then adjourned "to provide additional time to solicit proxies from Dell stockholders" and that no vote on the proposed takeover transaction was taken.
The obvious reason is that the Dell committee – which has come out in support of the $13.65 per share deal along with investor watchdog group Institutional Shareholder Services – does not believe that Big Mike and Friends have enough votes to carry the day.
The implication of the statement above is that they need more time to gather up the votes, but perhaps the real reason is that Big Mike needs more time to either raise his bid or convince large shareholders that the deal makes more sense than the proposed leveraged recapitalization plan put together by corporate raider Carl Icahn.
A report in the Wall Street Journal cites unnamed sources familiar with the Dell vote that 77 per cent of the shares eligible to be counted as either for or against the takeover plan were turned in.
This is lower than expected, and is a problem because anyone who abstains from the vote is counted as against it. Dell is rolling over his 16 per cent of shares in support of the deal, but his shares don't count in the voting.
Last week, Icahn sweetened his proposed deal, which initially offered $14 per share to Dell shareholders to would give Icahn control of the company by letting him pick a new board for Dell.
Icahn's plan is to keep Dell public and now wants to add stock warrants for Dell shareholders with an exercise price of $20 per share. Dell shareholders could get these shares any time in the next seven years, and depending on when they do it, it would boost the value of Icahn's recapitalization plan to anywhere from $15.50 to $18 per share.
The special committee of Dell board members said on Tuesday this week that Icahn's revised deal could 'hamstring' the company by blowing its cash and loading it up on debt. Big Mike and Friends are also blowing a lot of the company's cash to take Dell private, but the banks, Silver Lake, Microsoft, and Michael Dell's own MSD Capital investment arm are risking their own money to do the deal, not that of shareholders.
This is true enough, but none of that changes the fact that Dell has spent billions of dollars on acquisitions that may or may not be worth what the company paid for them and has a faltering PC business that is not generating profits like it used to. This is the real problem, and fixing it will require jarring changes.
Maybe Dell's stock will get hammered into the ground if the company tries to do this while still remaining a public company. But that is perhaps fair when Dell - like other IT incumbents - has missed the smartphone and tablet waves, didn't built up a software business as well as it might have, tried to much to emulate IBM (which has its own issues these days), and missed the shift to cloud computing, unlike Amazon.
While all this back and forth about being taken private or doing a leveraged recapitalization plan is fun as a kind of sport, what El Reg really wants to know is what Michael Dell plans to do with the company that bears his name, whether or not he prevails in the takeover.
This is actually what matters and so far there has been very little discussion of the issue. It would seem that this plan is vital to trying to figure out what Dell might be worth and whether either the Big Mike or Grumpy Carl deals make sense. ®
Sponsored: Minds Mastering Machines - Call for papers now open