Micron flashes flashy 16-nanometer flash memory
Tiny 128-gigabit chippery for tiny devices – and 'data center cloud storage'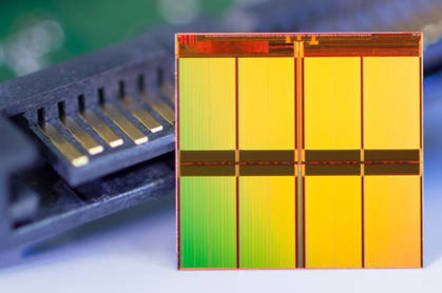 Boise, Idaho–based memory maker Micron has announced that it is now sampling 16-nanometer 128-gigabit multi-level cell (MLC) NAND flash memory chips.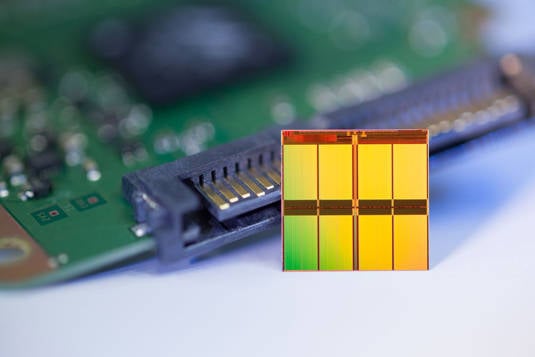 You can't make storage subsystems any smaller than this – yet
"Our customers continually ask for higher capacities in smaller form factors, and this next-generation process node allows Micron to lead the market in meeting those demands," said Micron NAND Solutions Group VP Glen Hawk in a statement.
The 16nm MLC NAND, which Micron modestly calls "the most advanced processing node for any sampling semiconductor device," is intended for use, the company says, in devices where storage needs to be comparatively capacious and yet the room available for it is constrained.
Specifically, Micron says that the tiny chips are targeted at a relatively large range of devices, such as "consumer SSDs, removable storage (USB drives and Flash cards), tablets, ultrathin devices, mobile handsets and data center cloud storage."
Being at the 16nm node, Micon claims that their 128Gb part offers the highest density and lowest cost of any MLC available. "In fact," the company says, "the new technology could create nearly 6TB of storage on a single wafer."
In addition to now sampling the new device to "select partners" with full production scheduled to begin in the fourth quarter of this year, Micron is also developing its own line of SSDs based on 16nm MLC NAND chips, planning to bring those devices to market sometime next year.
Your aging Reg reporter remembers helping to set up a Tandem computer installation in the 1980s, which included a pair of 350MB hard drives, each of which were just about the same size as a washing machine – and which made about the same amount of noise. Ain't storage-tech progress wunnerful? ®
Sponsored: Minds Mastering Machines - Call for papers now open