Just what is Big Blue now shipping exclusively to the Chinese?
And maybe the rest of the world, if we're lucky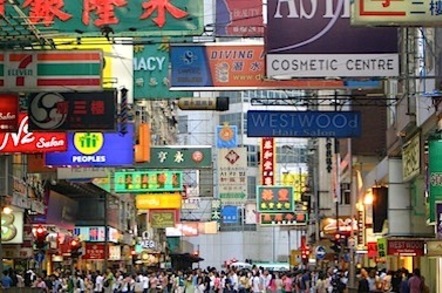 IBM is pushing out another China-only mid-range Storwize array, the V5000.
Judging by previous experience, it might eventually be shipped worldwide, but for the time being, IBM is sticking to PROC and ROC*.
Back in August last year, the V3500 was launched for the Chinese geography, with the V3700 coming in two months later, and effectively replacing IBM's long-lived DS3500.
The new array, the V5000, shares the same 2U enclosure as the V3700 and can have either 24 small form factor (SFF) drives (2.5in) or 12 larger (LFF) 3.5in drives. There is a maximum of 168 small form factor or 84 large form factor drives taking up a base unit and six expansion drawers. Using 4TB drives, maximum storage capacity will be 336TB.
Two nodes can be clustered together, taking maximum capacity to 672TB. Both iSCSI (2 x 1GbitE) and Fibre Channel (4 x 8Gbit/s) host connectivity options are supported.
The system supports storage virtualisation for data input with a license required for external storage virtualisation.
We might well expect history to repeat itself with there being a version of the V5000 introduced for the rest of the world in a few months.
The Storwize line now starts at the V3500/V3700 entry-level, passes through the (for now) China-only V5000 to the top-end V7000.
It doesn't seem likely that this new V5000 may affect the positioning of IBM's mid-range DCS3700 array, which has 60 disk drives in a 4U enclosure and Fibre Channel, iSCSI and SAS connectivity.
The maximum drive count is 360 providing in excess of 1PB of capacity using 3TB 3.5-in drives, so it comfortably out-scales the V5000 capacity-wise. Give it 4TB drives and it will out-scale the V5000 even more.
Finally, we at the El Reg storage desk note that IBM's Flash System 820 array, the rebranded TMS 820, is quite old in flash product terms, having been announced in February 2012, with 24TB in a 1U enclosure.
We're beginning to expect an uprated top-end for the line - there's Kaminario's K2 to beat in the IOPS game. ®
* The People's Republic Of China (the mainland and its special administrative regions, Hong Kong and Macau) and the Republic Of China (Taiwan).
Sponsored: Minds Mastering Machines - Call for papers now open