Brit telly, laptop flogger Gimmi goes titsup owing whopping £1m
Biz walloped by loss of 'buy now, pay later' finance deals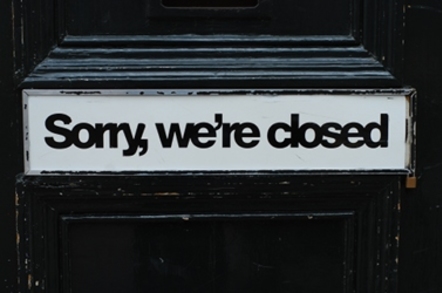 The collapse of Cheshire-based etailer Gimmi left a string of suppliers with debts totalling £1m, the creditor's report has revealed.
The web shop, which flogged tablets, smartphones, 3D TVs, and laptops was placed into the hands of administrator Cowgill Holloway Business Recovery (CHBR) on 8 May.
The two-year-old firm was only incorporated in April 2011 by Justin Young, Peter O'Connell and Graham Walker, promoting a "buy now pay later" scheme. Two finance firms were responsible for the credit agreements.
During the first year of life, it turned over £1.1m in sales but by the start of this year troubles emerged when the number of credit agreements halved due to restrictions being placed on the firm by one of the finance providers.
In addition to this, the lender hiked its charge per transaction from 1.75 per cent to 5.45 per cent which hit trading margins, cash flow and the ability of Gimmi to settle bills with suppliers, the report stated.
By February, Gimmi agreed a deal with Tesco to sell as a third party via its webstore, which was supposed to bring in £100,000 a week in sales from May, but in mid-April Tesco appeared to get cold feet, asking for more tests.
Directors had expected this alliance with the supermarket to replace revenue lost to the drop in credit approval rates, but without this expected sales spike, they decided to call in the receivers.
Axcess Financial Services approached the directors to buy 80 per cent of the business but were unable to invest for another six months, an option that was not on the table for a technically insolvent Gimmi.
CHBR tested interest in the business and agreed to sell the business name, IP, company database and some items of computer hardware for £32,000 plus VAT to an unnamed party.
Total assets available for creditors stood at £469,500, and preferential creditors are owed just shy of £6,000, though it owes a whole lot of cash to unsecured creditors.
CHBR said it expects there will be "sufficient funds" for preferential and unsecured creditors, claiming the dividend will be in the region of 20 pence in the pound. CGHBR is owned £21,000 for its work.
Creditors include a bunch of well-known Brit channel firms: Computer 2000 was owed nearly £388,000; Reading-based Westcoast was owed just over £204,000; Google Ireland £152,661; and Ebuyer £22,872.
Sponsored: Minds Mastering Machines - Call for papers now open