Malware-flingers do it back-to-front : scaM snaps, spans Macs
The mullet of nasty file extensions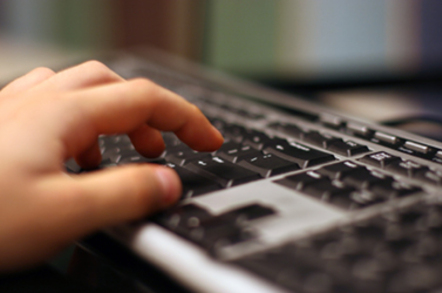 Miscreants have brewed up an exceptionally sneaky strain of Mac malware that uses back-to-front trickery to disguise its true nature.
Janicab, which is written in Python, takes advantage of the right-to-left (RTL) U202E Unicode character to mask the malicious file's real extension. The U202E marker applies a right-to-left override for the display of part (but only part) of the malware's filename.
So a file which appears to be called RecentNews.ppa.pdf is actually RecentNews.fdp.app. The is designed to trick users into thinking they are opening a .PDF file which is in reality an an executable .APP.
This sort of back-to-front trickery has been seen in Windows malware in the past - such as Bredolab and the high-profile Mahdi trojan from last year - but it's reckoned to be a new and unwelcome arrival on Macs.
In order to maintain the subterfuge, the malware displays a decoy document while silently executing in the background, installing malicious code on compromised Macs.
Because of the right-to-left override character, the usual file quarantine notification from OS X will also display with the words written backwards.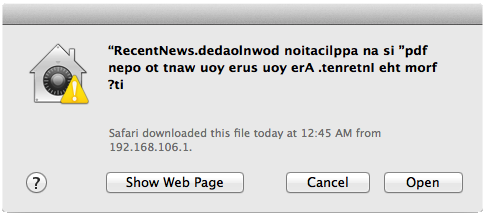 Beware this download Credit: F-Secure
Adding an extra layer of sneakiness, the malware has been signed with an Apple Developer ID.
The nasty is designed to record audio and capture screenshots from infected computers, using the third-party command line utility SoX.
This information is then uploaded to a command-and-control server whose location is defined by pages on seemingly innocuous pages on YouTube.
A full write-up on the attack, together with screenshots, can be found in a blog post by F-Secure, the Finnish anti-virus firm that was the first to issue a warning about the threat.
A good explanation of the right-to-left trickery that's the main feature of the malware can be found in a blog post by independent anti-virus expert Graham Cluley here.
And a hat tip for David Harley of Eset who described to back-to-front mendaciousness as "Malice through the looking glass".
None of the antivirus experts have stuck their necks out on this point, but the amount of care taken to put together the malware smack of some sort of cyber-espionage campaign rather than common or garden cybercrime.
The decoy document dropped by Janicab is in Russian and that may well have something to do with the target audience. ®
Sponsored: Minds Mastering Machines - Call for papers now open