Click here for hot live SPEARS test action
Ballocket control board test flight is go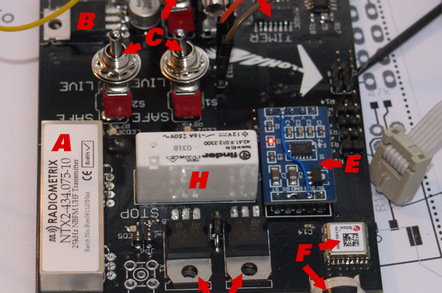 As we speak, the the Low Orbit Helium Assisted Navigator (LOHAN) team is in Brightwalton in Berkshire preparing to dispatch the Special Project Electronic Altitude Release System (SPEARS) control board to the stratosphere.
If all goes according to plan, SPEARS will trigger the custom igniter designed to fire our Vulture 2 spaceplane's rocket motor. For this flight, though, the igniter will be acting as a pyro cutdown for a secondary payload codenamed "CHAV".
Here's how you can follow the action:
Main payload transmitters: SPEARS Board ($$SPEARS 434.650MHz) and a backup tracker ($$REHAB 434.600Mhz).
Secondary payload transmitters: Rasperry Pi transmitting Slow Scan Digital Video ($$CHAV 434.075MHz) and a backup tracker ($$SHUTIT 434.495Mhz).
Secondary payload live Picam images: http://ssdv.habhub.org/
Launch and main payload pursuit live video: http://www.batc.tv/streams/ukhas
Secondary CHAV payload pursuit live video: http://www.batc.tv/streams/ukhas2
Live chat: #highaltitude channel on Freenode
Live map: http://www.spacenear.us/tracker
So, tune in, make yourselves a nice cuppa and enjoy the show. Just so you know who's who on the live feeds, here's a slightly wobbly LOHAN team last night outside a boozer close to Blighty's Baikonur, featuring (top row from L-R), Anthony Stirk, Dave Akerman, Claire (better half of rocket wrangler Paul Shackleton), Dave's missus Julie (provider of moral support and quality bacon-filled muffins) and (front row L-R), John Oates, Paul Shackleton, SPEARS geezer Neil Barnes and his other half Anita...
Long-term readers will remember John Oates from our Paper Aircraft Released Into Space (PARIS) triumph, and we're delighted to welcome him back for today's high altitude tomfoolery. Readers are invited to raise the traditional pint to him and all the other LOHAN team members who've chipped in their time and effort for nothing in aid of the British space programme. ®
---
Further LOHAN resources:
---

Sponsored: Minds Mastering Machines - Call for papers now open