Watch LIVE tomorrow: LOHAN team attempts second pop at SPEARS
Pi-powered cam to beam snaps of Saturday's ballocket control board test flight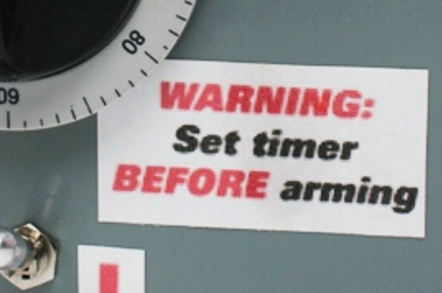 This afternoon, The Register's Low Orbit Helium Assisted Navigator (LOHAN) team will assemble in Blighty's Baikonur (aka Brightwalton, Berkshire) ahead of tomorrow's flight of the Special Project Electronic Altitude Release System (SPEARS) control board.
Specifically, this is a test flight to check that the aforementioned controller electronics work high up in the sky, a useful step ahead of an official launch of our LOHAN spaceplane. And you'll be able to follow Saturday's events via radio and Twitter, and live pictures and position tracking on the web - provided everything goes to plan.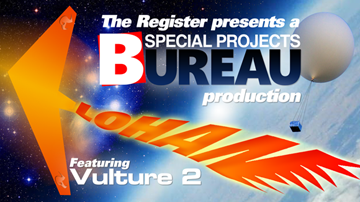 The test should hopefully confirm that SPEARS will fire the custom igniter for our Vulture 2 spaceplane's rocket motor.
The control board, part of a package carried aloft by a helium balloon, determines its altitude from a u-Blox MAX-6 GPS device, and at a programmed height fires the igniter via an external 12V battery pack. For safety reasons, the firing circuitry is disabled below a predetermined "safe" height, above which SPEARS is armed for action.
As a failsafe, SPEARS can also be commanded to fire the igniter if its accelerometers detect it's falling below the programmed trigger height, that's to say, if the balloon bursts prematurely.
Of course, there's always the chance SPEARS will go titsup, so the payload for tomorrow's flight will include the Clockwork High Altitude Release Mechanism (CHARM) - an old-school bit of kit in the best tradition of garden-shed boffinry that will fire the igniter some time after launch, depending on the balloon's estimated rate of ascent.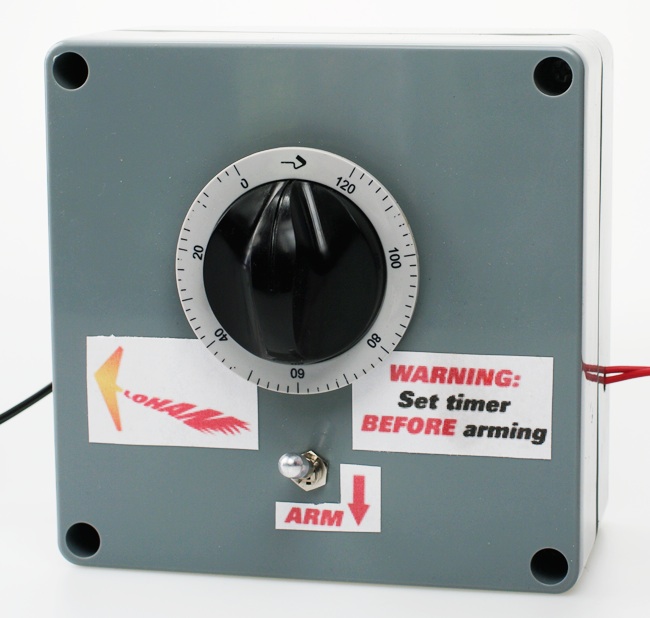 CHARM'd, I'm sure ... The front of the box, with the timer dial and switch
So, we reckon we've got that covered, and to add a little spice to the mix we'll be using the igniter as a pyro cut-down to release a small secondary payload - codenamed "CHAV" - containing Dave Akerman's* Raspberry Picam set-up, which will be beaming back live images from aloft.
Those readers with a radio receiver that can receive USB in the 70cm band are invited to join the party, and there's a guide on how to track our launch right here.
The transmission details are:
Main payload: SPEARS Board ($$SPEARS 434.650MHz) and a backup tracker ($$REHAB 434.600Mhz).
Secondary payload: Raspberry Pi transmitting Slow Scan Digital Video ($$CHAV 434.075MHz) and a backup tracker ($$SHUTIT 434.495Mhz).
LOHAN team member Anthony Stirk notes: "Transmission format is RTTY speeds, so please select autoconfigure in DL-FLDigi."
In the event of dubious wind predictions, we'll also be launching another payload before the main event to check conditions at altitude. This will be on 434.545Mhz and its callsign will be $$PAVA.
Subject to 3G coverage, you'll be able to tune into the live launch and pursuit of the main payload at http://www.batc.tv/streams/ukhas. A second pursuit team will chase the secondary payload, and will be appearing for your viewing pleasure at http://www.batc.tv/streams/ukhas2.
Although batc.tv has its own chat facility, join us at in the #highaltitude channel on Freenode to chip in your two bits' worth as the drama unfolds.
If we get our act together, one of the pursuit teams will be tweeting exciting updates here.
If you prefer to follow the action on a map, you can do that down at http://www.spacenear.us/tracker.
And if all that wasn't enough, the live Picam images from the CHAV payload will land at http://ssdv.habhub.org/.
Right, so that just leaves the small matter of what happens if we have a second encounter with the English Channel. Well, we're not taking any chances, and have recruited a miniature specialist who'll spring into action in the event of an unplanned ditching: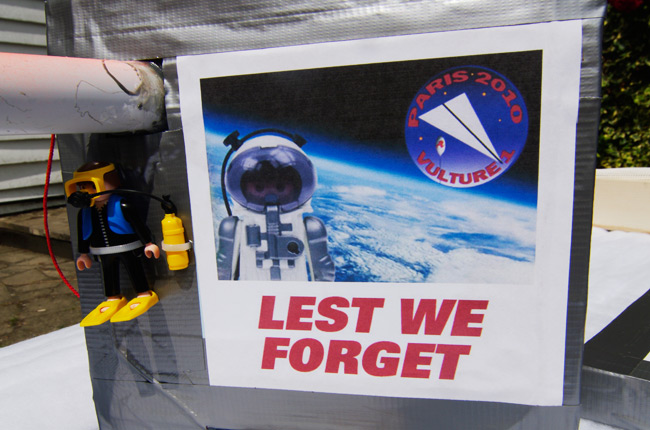 Never again ... We recruit Reg frogman to rescue project if it ends up in the drink again
Now, if you'll excuse us, we're off for a pre-flight mission briefing in the pub. See you tomorrow at around 10:00 UTC for some top quality high-altitude tomfoolery. ®
Bootnote
* Dave recently showed once again he really has got the Right Stuff when he launched a skydiving fluffy football mascot. Good show:
---
Further LOHAN resources:
---

Sponsored: Minds Mastering Machines - Call for papers now open