Intel waves LONG TENT POLE, pokes Data Domain boxes with it
Also destroys storage gear by lobbing it out of an aeroplane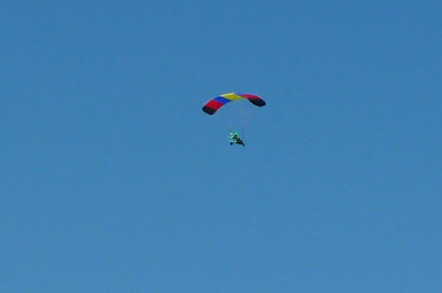 EMC has boosted the backup performance of its mid-range Data Domain boxes yet again by upgrading to Intel Sandy Bridge processors. Avamar, Mozy and NetWorker have all been revved up too.
The news came at a hyped-up Backup and Recovery Systems launch in New York at which EMC claimed it had the longest pole in the tent for innovation.
The much ballyhooed Drop of Death turned out to be old PCs or tape recording kit dropped out of a plane from a mile up in the air, with a parachute deploying and halting their uncontrollable crash to Earth if a backup and recovery system completed a job fast enough.
System S(ymantec) and System C(ommVault) predictably enough failed to complete the "backup task" in EMC's publicity stunt, but the Data Domain system - unsurprisingly - did. See the video here.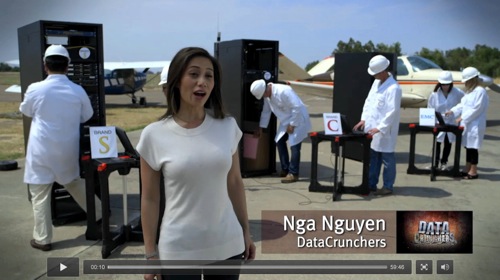 Still from EMC BRS's "Drop of Death" video. The Drop of Death itself runs from 0 – 3mins. Click to play in new window.
EMC says it is unifying its various backup processes and moving from "a fragmented set of data protection processes and infrastructure silos" to a Protection Storage Architecture.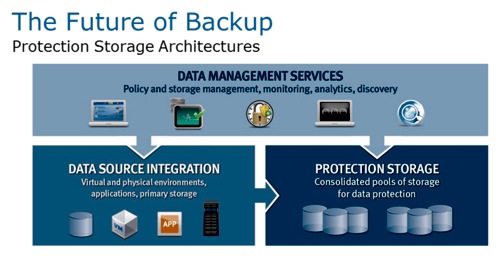 The Data Management Services are a "catalogue layer", according to Chuck Hollis, EMC veep and global marketing CTO, while the Protection Storage component is Data Domain. In EMC's scheme of things the orchestration of services is done by its Data Protection Advisor suite or software layer. The data sources are put into the storage pool via tools such as Avamar, NetWorker, DD Boost for Oracle RMAN, and so on.
Hollis blogs that EMC is working towards Data Domain being a storage pool for both backup and archive. Items in the archive should be accessible from applications such as databases, e-mail, collaboration and content management. He says that the Data Domain Extended Retention option is part of this effort.
Data Domain
The DDN range of deduplicating backup to disk arrays is topped by the DD990 and tailed by the entry-level DD160 and DD620. Between these three, four new boxes have been introduced, incorporating Sandy Bridge processors: the DD2500, DD4200, DD4500 and DD7200. Here is an EMC table showing some their attributes: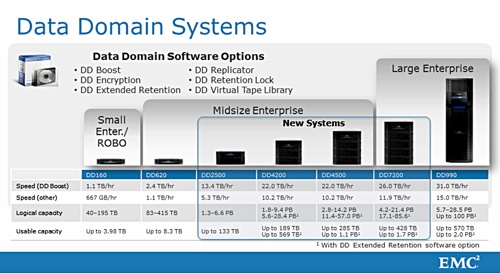 DDN mid-range using Sandy Bridge. Click chart for larger, more readable version.
EMC says these new boxes are up to four times faster and ten times more capacious than previous systems, and support up to three times more data streams than before – that is, a total of 540. It claims they provide a 38 per cent lower cost/GB as well.
In other Data Domain news:
The product now supports direct backup from SAP HANA Studio using NFS.
DD Boost for Oracle RMAN supports Oracle Exadata and SAP running on Oracle.
DD systems integrate with archiving apps from Dell, IBM and OpenText.
Versioned Replication provides support for incremental forever backups (synthesized into full backups).
Data Domain supports more than 20 archive applications, with the ability to store more objects/files at a lower cost.
Disaster Recovery – instantly access VMs off the Data Domain in the event of a disaster, and storage vMotion them to primary storage at your convenience.
Avamar and NetWorker
There are several Avamar additions and an updated version of the NetWorker backup software:
Avamar v7 supports all major data centre workloads directed to Data Domain systems.
Avamar "VM Instant Access … allows a VM (virtual machine) to be booted from a Data Domain system and [be] up-and running in under 2 minutes."
A vSphere web client enables VMware administrators to manage Avamar backup and recovery directly.
The Avamar NDMP Accelerator appliance can take data from an Isilon array via NFS export, deduplicate it and send it to a data centre Avamar store from where it could be replicated to a DR site. This appliance works for VNX, Celerra and NetApp as well.
Networker v8.1 has integrated snapshot management "featuring a new wizard-based user interface, auto-discovery, and intelligent assignment of snapshot storage."
NetWorker supports Data Domain Boost over Fibre Channel, which provides 50 per cent faster backups and 2.5x faster restores compared to a VTL-based configurations.
Networker uses Avamar services for its VMWare support.
Hollis speculates that the Avamar NDMP Accelerator could backup HDFS data stored in Isilon arrays.
Mozy
The Mozy backup-to-the-cloud product now integrates with Microsoft's Active Directory and has simpler management using the concept of storage pools. This means, EMC says, you don't have to manage storage quotas at the individual machine level.
New users can be activated without using keys to speed up the addition of Mozy services to new people.
Backup and Recovery Systems division CTO Stephen Manley's blog provides useful background, context and additional details for this backup announcement by EMC.
All these products will be generally available in the third quarter of 2013 and will also be available within VSPEX Proven Infrastructures in the same period. ®
Sponsored: Minds Mastering Machines - Call for papers now open