Microsoft biz heads slash makes Ballmer look like dead STEVE JOBS
Don't cry for me, Cupertino... The truth is, we'll be just like you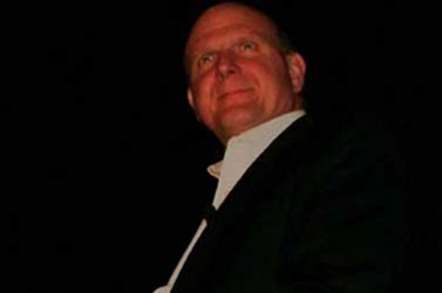 The Microsoft re-organisation unveiled by chief executive Steve Ballmer yesterday is the biggest - and riskiest - in his company's history.
Not since Microsoft shifted from a PC software company to a PC-and-server-software-and-internet company have the top brass shifted the reporting lines so thoroughly.
Back then, the change was simple: while previously Microsoft shipped boxed product for PCs, it would now ship boxed product for servers and virtual boxed product for the internet.
But the industry has become a lot more complex since then. Other firms have moved on to huge success selling high-margin goods that hook users into a never-ending stream of software, hardware, services and accessories, all working together to make the rest of the biz units' output indispensable.
In response, Ballmer has unveiled a new, supposedly engineering-lead structure designed to harness the technology talent inside Redmond while feeding that into a new unified whole that is Microsoft. A total operation, not an operation of separate pieces.
It's an engineering problem
In that respect, Ballmer's overhaul is trying to make Microsoft more like Apple and Google. Apple succeeded with the iPhone and iPad because it harnessed the ideas and passions of its people - not just the demonic zeal of one chief executive.
Google, on the other hand, is famed for giving its engineers 20 per cent free time for working on projects that improve Google's services.
It's Apple and Google that are today synonymous with smartphones, tablets, internet search and services - all areas where Microsoft is lagging badly and has failed to make money.
But Ballmer's plan is dangerous: he's ripped up the corporate model that's helped turn Microsoft into the world's largest software company and also a money-making monster.
By breaking down internal barriers inside Microsoft, he's smashed the existing lines of leadership and accountability on product and service development. The old certainties are gone.
Power, meanwhile, has transferred away from product people and been concentrated further in the hands of one man: Steve Ballmer. But he's a salesman CEO, not a technology CEO like Steve Jobs or Larry Page - or even Bill Gates - whose signatures are landmark technologies.
Under CEO Ballmer, Microsoft was caught napping on internet search, ads, smart phones and tablets. The risk is this will happen again.
The changes unveiled this week marked the end of Microsoft's five product groups.
These groups had become the fundamental unit for running Microsoft, delivering product. The Windows group, for example, handled every aspect of the Windows client operating system: product planning, engineering, development, marketing, business and partners.
There was also minimal interdependence between units. Collaboration was on a case-by-case basis - between, say, Windows and Office on integration, interface and, lately, web.
Collaboration
Units working in vertical silos, building and delivering total products are now dead. In their place we have four technology groups working thematically: operating systems and engineering; devices and media; applications and online services; and cloud and enterprise engineering.
The idea, according to Ballmer, is to make Microsoft more of an engineering-focused company with more collaboration.
So, for example, the operating systems and engineering team under former Windows Phone chief Terry Myerson will work on Windows on mobile, PC and backend systems.
If you've been watching the munging-together of Windows for PCs and slabs and Windows for phones and have been either encouraged or horrified, expect more.
The new groups, meanwhile, only do engineering. Responsibility for business, finance and marketing that the product groups had enjoyed has shifted.
The end of the groups and breakup of their powers can be good for Microsoft and for execs like Qi Lu, who is now EVP of the application and services engineering group. Conversely, the change is also bad for Microsoft ... and for execs like Satya Nadella, the EVP of the cloud and enterprise engineering group.
The former Microsoft bod, Lu, a technologist hired from Yahoo! before the changes, had been group vice president of Microsoft's online business group. But OLB was a financial black hole - a constant loss-maker. Yet, under Ballmer's plan, Lu will control Office, Office 365, Skype and Lync along with Bing search and ads and Microsoft's other online services.
Fortunately for Office, he will do so free of any business concerns.
Sponsored: Minds Mastering Machines - Call for papers now open