Caterpillar B15: The Android smartphone for the building site
Bullitt Mobile's rugged blower for tool-toting types
The Captain Scarlet of smartphones?
The B15 is not indestructible. I suspect that the display panel is no more robust than any other Gorilla Glass screen, but you'd really have to go some to break it. The same goes for getting it too hot or too cold. Caterpillar reckons the operating window is between -20°C and 55°C, which means short of sticking it in a hot oven with your frozen pizza you are covered.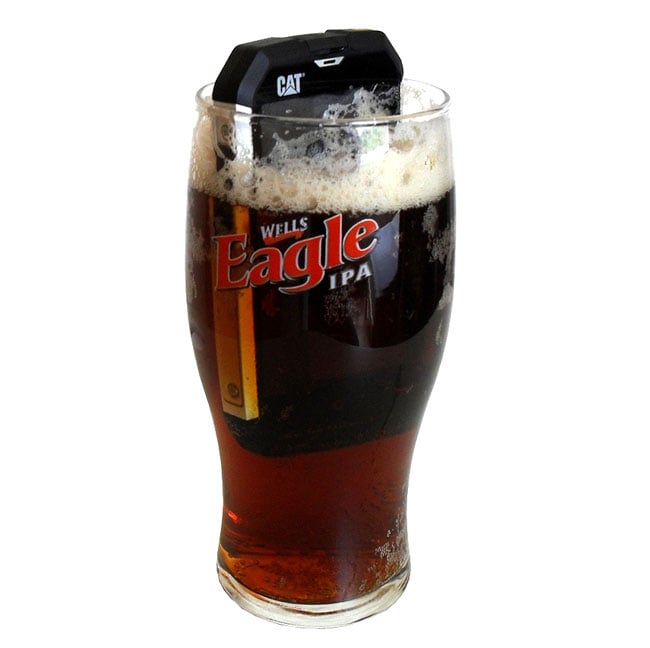 Going the extra mile pint: the B15 survives the Reg beer dunk benchmark
With a mediocre MediaTek chip and only 512MB of Ram, the B15 was never going to light up the performance charts, but the UI is perfectly fluid, the stock media player handles 720p video just fine and it can play games like Shadowgun: DeadZone and Temple Run 2 without getting its knickers in a twist. I'm not sure it's reasonable to expect any more from a phone that's being pitched as a work rather than an entertainment tool.
There's only 4GB of storage built in, which in the real world equates to 1GB for apps and 1.6GB for file storage. If you need more space there's a Micro SD slot tucked away under the battery. Having the on-board storage divided up like that is a bit old hat but it does mean you can access that 1.6GB as USB mass-storage - which is handy if you need to connect your phone to the foreman's laptop in a hurry.
The TFT LCD screen lets the side down a bit. It's bright and crisp enough but there's too much unidirectional chromatic shift about the long axis. Hold the device in landscape and then bring the left-hand edge forward until you are looking at it at 45° and the screen washes out close to black.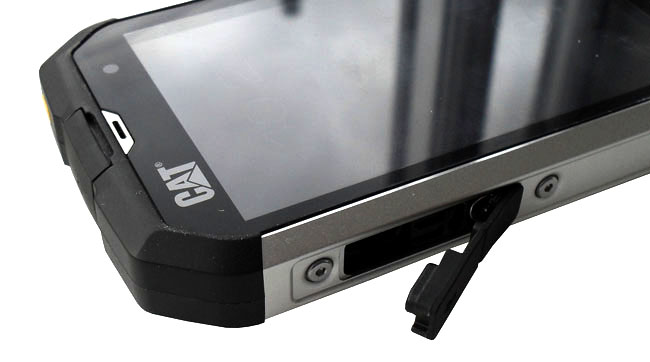 They've got micro USB covered
There's also a fair bit of light bleed around the edges of the screen when the brightness is turned up to 11 which isn't something I expect to see on a £300 handset in this day and age.
Happily, the implementation of Android on the B15 is very close to stock and the only bloat is a couple of links to Caterpillar's website, which take up next to no space. The quick-settings menu above the notifications panel has had a small makeover, primarily by offering a broader selection of sound profiles, including a very loud outdoor setting so you can hear the gaffer call when standing next to a working cement mixer.
The one feature I was surprised not to find on the B15 was an LED flash. Not so much for low light photography for which, like all LED lights, it would be tits-on-a-bull useless, but for use as an impromptu torch. The day before my review handset arrived I'd been using the LED on my Motorola Razr i to peer into a gloomy and powerless cellar so it's definitely a bit of a missed trick.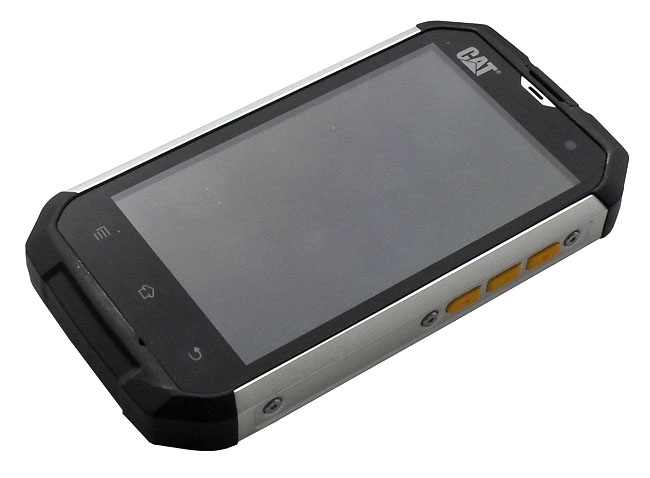 The volume and camera buttons are well placed for users wearing thick gloves
The main camera may only be a 5MP affair but it takes a decent enough snap in good light and is more than sufficient for photo-scanning Wickes invoices using an app like CamScanner. It can also record video at 720p and 30fps. The 0.3MP webcam is less impressive but at least there is one.
I expected better from the removable 2000mAh battery. It will get you through a full day easily enough but the two cellular radios do have an impact on battery life if you leave them switched on all the time.
No problems to report with wireless reception or call quality, and while the loudspeaker is hardly the most refined one I've come across, it's certainly loud enough, especially in Outdoor mode. Like all Android smartphones, you get Bluetooth and aGPS - the toughened bodyshell has no negative impact on GPS signal reception - though there's no NFC chip.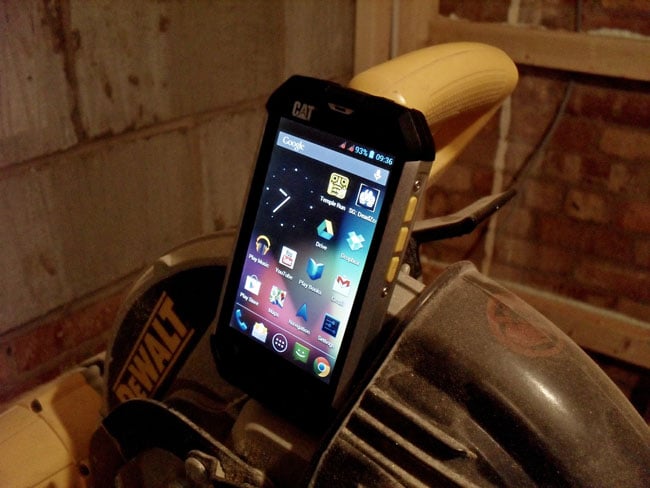 Power tool
The Reg Verdict
If you want a smartphone that's waterproof, drop-proof, beer-proof and Range Rover proof, and that has two Sim slots, the Cat B15 is self-recommending, despite the mediocre display. The absence of an LED light is a strange omission but I've got a small Maglite in my toolbox so it's not the end of the world.
In short, the B15 is ideal for anyone who has to graft for a living or is worried about dropping and damaging a fragile and expensive thoroughbred like the iPhone 5 or Samsung Galaxy S4. ®
Sponsored: Minds Mastering Machines - Call for papers now open

Caterpillar B15: The Android smartphone for the building site
Built like a bricky, the Cat 15 will endure when other smartphones fail. And it's no thicky for all its toughness.